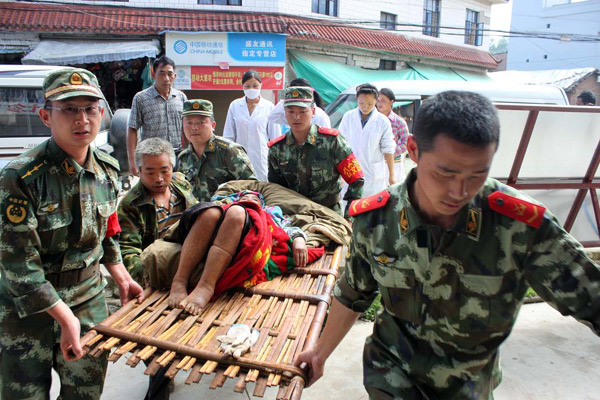 Rescuers rush an injured man on the stretcher for treatment on May 30, 2014, after a 6.1-magnitude earthquake jolted a county in Southwest China's Yunnan province. [Photo/Xinhua]
KUNMING - A 6.1-magnitude earthquake jolted a county in Southwest China's Yunnan province on Friday, injuring 43 people and forcing the evacuation of a further 35,000.
The quake hit Yingjiang County under Dai-Jingpo Autonomous Prefecture of Dehong at 9:20 am, according to the China Earthquake Networks Center.
Tremors were strongly felt in the county seat, where residents rushed to open areas.
About 150,000 residents in 15 townships were affected and of them, 35,000 have been relocated, said Wang Junqiang, the Communist Party chief of Dehong Prefecture. Meanwhile, 3,390 rooms were toppled and 18,000 more were severely damaged.
Even though the quake had a higher magnitude compared to one a week ago, it did not cause bigger losses as local authorities had warned of aftershocks and secondary disasters and evacuated residents from damaged buildings, said Wang.
The Yunnan government has initiated a grade II emergency response, sending a work team of over 50 people for surveying, investigation and disaster evaluation.
More than 3,500 soldiers, paramilitary officers and policemen are involved in the rescue work.
Provincial governor Li Jiheng has arrived at the epicenter of Kachang Township to coordinate rescue efforts.
According to a statement from the provincial civil affairs department, the quake has cut off electricity in Kachang and the villages of Mengnong and Sudian, though communications have not been affected.
More than 360 teachers and students from Wupai Primary School in Kachang have been relocated to safety zones.
The school was seriously damaged in a 5.6-magnitude quake that hit the same region a week ago, with some classrooms becoming unusable because of broken doors and windows and cracks on the walls. Students had been moved to tents to continue their studies.
"Some classroom walls, already damaged in last week's earthquake, just collapsed this time," said the school headmaster, Ke Shangfa.
In Longdong Village, which was badly hit by the quake, a team of 150 armed police had retrieved six villagers trapped under collapsed houses as of 11 am.
The provincial government has sent tents, quilts, folded beds and mattresses to the disaster-stricken region.
Yunnan lies where the Eurasian Plate and Indian Plate meet, and the province is prone to quakes.
Yingjiang borders Myanmar and has a population of 300,000. In March 2011, the county was jolted by a 5.8-magnitude quake, leaving 26 people dead and over 300 others injured.