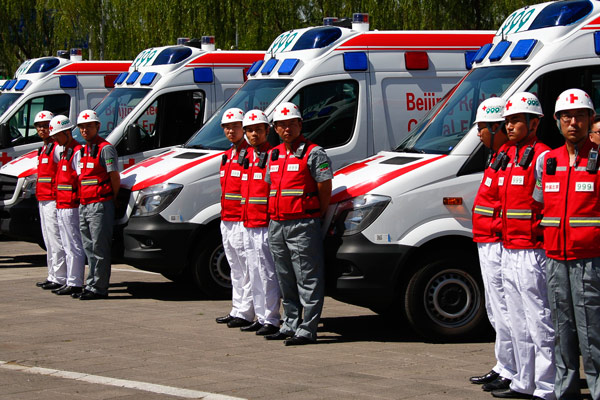 Beijing Red Cross emergency medical team members line up near their ambulances at a launching ceremony near the Bird's Nest in Beijing on Wednesday. KUANG LINHUA / CHINA DAY
The Red Cross Society Beijing Branch signed an agreement on Wednesday with the city's public security bureau to strengthen cooperation on dealing with terrorist attacks and other emergencies.
The branch has set up a response team of 50 medical workers from the Beijing Red Cross Emergency Rescue Center, according to Tian Zhenbiao, deputy director of the center, a first-aid institution under the Beijing Red Cross.
The team is equipped with 20 special ambulances, according to the center. Ten ambulances will stand ready for emergencies in and around Tian'anmen and along Chang'an Avenue, while the rest are for "important and sensitive areas" such as the Bird's Nest (the National Stadium) and Financial Street.
Each ambulance is equipped with a doctor, nurse and driver, according to Tian. "We will arrive at the scene within one minute," he said.
The ambulances are equipped with special fire extinguishers.
"The water-based fire extinguishers contain nitrogen. The agent, when sprayed on humans, can put out the fire and bring down the temperatures quickly," said Wang Hongyu, deputy director of the Beijing Red Cross Emergency Rescue Center. "Also, the fluid agent is not harmful to human skin."
Each ambulance is also equipped with a shield, three helmets, three pairs of gloves that protect medical workers from cuts and a set of tools, including an ax, a pair of pliers and a door ram.
Using these tools, medical teams can rescue people trapped in buildings or vehicles, said Wang, adding that all team members have been trained to use the tools.
Each ambulance has a wireless communication system that links with the Beijing Red Cross, its emergency rescue center and the city's public security bureau.
The system enables medical teams to carry out orders from the commanding offices instantly and transmit images from the scene of an incident to relevant departments, Wang said.
"We will be able to give emergency aid to the needy and transfer those injured as soon as possible," he said.
wangqingyun@chinadaily.com.cn