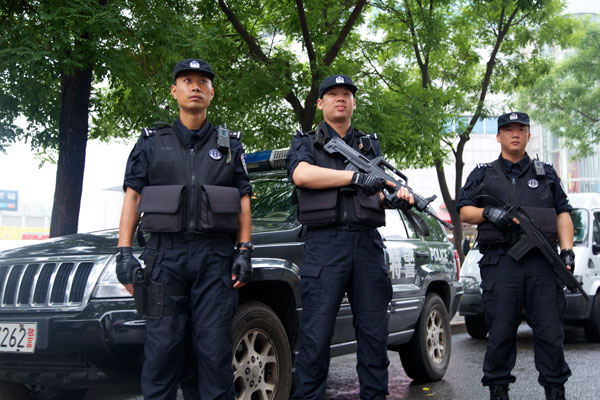 Special police officers patrol the CBD area in Beijing. [Zhang Yujun/For China Daily]
With security being beefed up across China, police officers are receiving special training to ensure they can effectively use the weapons they will be issued to combat terrorism, according to the Ministry of Public Security.
Since March, the ministry and local police departments have been arranging for weapons instructors and psychologists to offer special training to patrol police before they are armed.
Guns are tightly restricted in the country. Even for police officers, only SWAT officers ordinarily carry weapons, while others, such as officers who patrol neighborhoods, do not.
Violent attacks, including a number by terrorists, have killed almost 100 people around the country this year.
In Kunming, Yunnan province, five terrorists stabbed 25 people and injured 143 in a 25-minute assault in front of a railway station. Unarmed patrol officers at the scene had difficulty subduing the terrorists, but the attack ended in just 15 seconds after SWAT officers arrived and shot the assailants.
Police are now required by the ministry to carry their weapons so that they can react in a timely and effective way during such attacks.
"Through law enforcement education and skills training, police officers will enhance their legal awareness and improve their technical abilities to effectively use the weaponry to timely curb violent or terrorist crimes," said a senior official from the ministry's public security management bureau.
The special training emphasizes anti-terrorism and law lectures, as well as skills training, according to the ministry's personnel training department.
The training will last three months, the ministry said. Afterward, officers will be required to pass examinations to qualify to carry and use firearms, including revolvers and semiautomatic pistols, riot guns and submachine guns.
National regulations on the use of weapons by police say officers may fire if warnings are ignored during 15 types of emergencies that pose serious threats to public safety. These include arson, murder, hostage-taking, hijacking of aircraft and theft of ammunition.
To suppress terrorism, security nationwide has been intensified, and the ministry has initiated a special campaign to target violent and terrorist attacks.
Beijing is rolling out a three-tier patrol protocol that covers the skies, subways and streets.
In recent days, the number of rounds of ammunition provided to Beijing SWAT officers has doubled.
If terrorists are encountered, Beijing SWAT officers are authorized to shoot to kill, rather than firing warning shots, according to the Beijing Public Security bureau.
"Once we are faced with an emergency — such as when suspects are armed with guns and knives in violent crimes or terrorism activities, or are gathering illegally or escaping from criminal activities — we will decide whether to use handguns to deal with the situation," one male SWAT officer, surnamed Li, said.
"If the incident risks very serious consequences, or if it's too late for warnings, the police might open fire," he said.