A major expo designed to promote cooperation among countries along the Silk Road economic belt concluded on Monday in Xi'an, Shaanxi province, after the signing of domestic deals worth a preliminary estimate of 895.6 billion yuan ($144 billion).
The 18th Investment and Trade Forum for Cooperation between East and West China and the Silk Road International Exposition "achieved fruitful results", according to Zhang Xiao-ning, deputy director of the expo's organizing committee.
Domestic participants also signed deals during the event for foreign investment worth $5.06 billion, Zhang said.
The host province was the biggest winner, attracting 613 billion yuan of domestic investment and $4.65 billion of foreign funds, Zhang said.
The event connected China and countries along the ancient Silk Road, which started in Xi'an and ended in Rome.
President Xi Jinping proposed the concept of a modern Silk Road economic belt on his visit to Kazakhstan in September.
More than 300,000 business delegates from 77 countries and regions attended the four-day event, including around 1,800 foreign delegates. Exact data about contracts involving Chinese companies investing in other countries was not immediately available.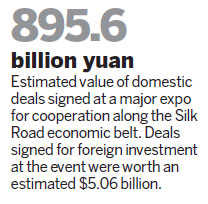 Zhang Wei, vice-president of the China Council for the Promotion of International Trade, called for joint efforts to make significant progress to further reduce barriers of trade between countries along the belt.
"The need to promote trade facilitation, to improve port infrastructure, to promote customs efficiency and especially to improve and establish a practical commercial dispute-settlement mechanisms are urgent to speed up cooperation along the Silk Road economic belt," Zhang said.
Boosting the economic belt will more closely connect countries along the route and work to the benefit of 3 billion people, he added.
The concept so far has received an enthusiastic welcome from economists and countries.
Representatives from international chambers of commerce and other associations also signed the Xi'an Proposal, vowing to enhance cooperation.
"The boosting of the Silk Road economic belt will bring historic new development opportunities for Asia and Europe. Ukraine hopes to deepen cooperation with China and other countries in more fields such as agriculture and the aerospace field," said Gennadiy Chyzhykov from the Ukrainian Chamber of Commerce and Industry.
Exhibitions at the event covered 300,000 square meters, three times the forum's size in 2013. The 19th forum and expo will take place in May 2015.
Contact the writers at hena@chinadaily.com.cn and luhongyan@chinadaily.com.cn.
(China Daily 05/27/2014 page7)