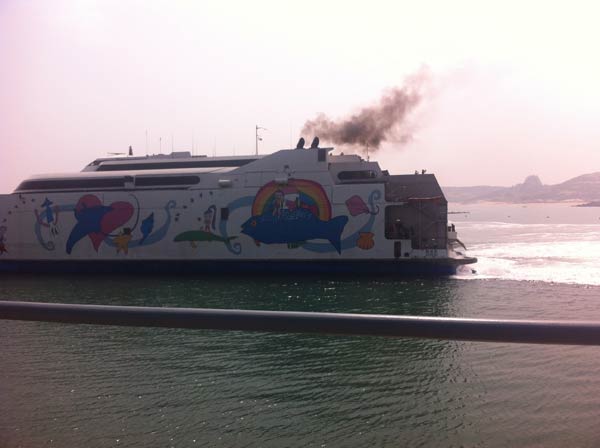 The high-speed cruise liner Natchan Rera departed from Taipei's harbor at 11 am on Tuesday and reached Aoqian wharf in Pingtan county after three hours of cruising. [Photo by Sun Li/China Daily]
A high-speed cruise liner made its inaugural voyage from Taipei to Pingtan county, Fujian province, on Tuesday.
The Natchan Rera, a diesel-powered catamaran, departed from Taipei's harbor at about 11 am. After three hours of cruising, the ship arrived at Aoqian wharf in Pingtan county.
Equipped with four water jet propulsion systems, the vessel can reach a speed of over 40 knots. It sails at an average speed of 36 knots.
Chen Chao-ming from Taipei was on deck taking photos of the cheering crowds welcoming the ship's arrival.
Chen, who works at a Taipei-based travel agency and travels between Taiwan and Fujian regularly, said the route further bridges the geographic gap between the mainland and Taiwan.
Previous direct sea services linking Fujian province and Taiwan operated between Xiamen and Taichung, Xiamen and Keelung, Xiamen and Kaohsiung, as well as Pingtan and Taichung.
Last October, the fast ferry Haixia carrying about 300 passengers made its maiden voyage from Pingtan to Taipei.
The Haixia made its first trip from Pingtan to Taichung on Nov 30, 2011.
"The new ship enhanced the level of convenience for Taiwan resident visiting the mainland as Taiwan people have more choices when deciding when and how they travel to the mainland," Chen said.
Lo Chia-ling, a businessperson from Taipei who was among the 400 passengers on board, said the trip was highly pleasant and relaxing.
Lo, who has traveled to Fujian via ship before, said the boat offered passengers an impressive sense of stability.
"The ship hit some rough waves but it was very smooth, and I felt very comfortable throughout the process," Lo said.
The 112-meter-long and 30-meter-wide ship has a maximum passenger capacity of 774, with room for 355 cars, according to Zhang Bin, a manager of the Fujian Cross Straits Ferry Corp, the mainland-Taiwan joint venture that runs the ship.
The roundtrip between Pingtan and Taipei operates on Tuesdays and Wednesdays. The ticket price is 690 yuan ($110), the same price as the Haixia.
Lin Xinping, an official with the Pingtan county government, said the new vessel may contribute to another surge in cross-Straits sea travel.
The Haxia has transported more than 260,000 passengers since its launch.