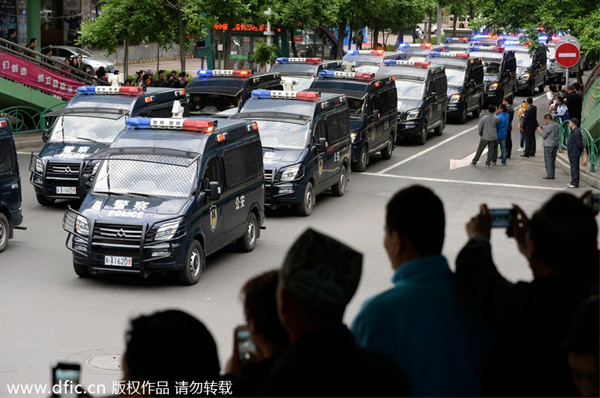 Police vehicles parade in Urumqi in China's Northwest Xinjiang region on May 23, 2014. [Photo/IC]
BEIJING - China will harshly crack down on terrorist attacks and maintain lasting stability in Xinjiang, the central leadership of the ruling Communist Party of China (CPC) said on Monday.
The stability of Xinjiang is strategically vital to the whole country's reform and development as well as its national security, said a statement released after a meeting of the Political Bureau of the CPC Central Committee, chaired by its general secretary, Xi Jinping.
All Party members should perceive the timeliness and complexity of the acute anti-separatist struggle in Xinjiang and better understand the importance of maintaining local stability, according to the statement.
Top priority should be given to the fight against violent terrorist attacks and religious extremist forces, it said, adding confidence is needed to win the long-term struggle.
"The Party's policies on Xinjiang have been proved completely right," the central leadership said, urging more efforts to implement the existing ethnic policies to promote bilingual education and interaction between ethnic groups.
Creating jobs for local people will be put on the top of the agenda, the Party leadership said, adding it should be ensured that at least one person from zero-employment families is offered a job.
Steps will be taken to boost local education in Xinjiang, including speeding up the building of boarding schools in agricultural and pastoral areas as well as remote regions, the leadership vowed.
Local people will be encouraged to protect the local environment and realize sustainable development in Xinjiang, according to the statement.
It promised that campaigns will be launched to combat terrorism, separatism and extremism in Xinjiang in order to limit the surging number of terrorist attacks in the hinterlands.
"More efforts are needed to increase ideological influence," the statement added. "Socialist core value should be used in the building of the common spiritual home for nations in Xinjiang."
Special measures will be taken to boost development in southern Xinjiang in particular and improve local people's livelihood there, it said.
The Party leadership also stressed the role of the Xinjiang Production and Construction Corps in maintaining stability and promoting ethnic harmony.
Related:
Xinjiang's Party chief wages 'people's war' against terrorism