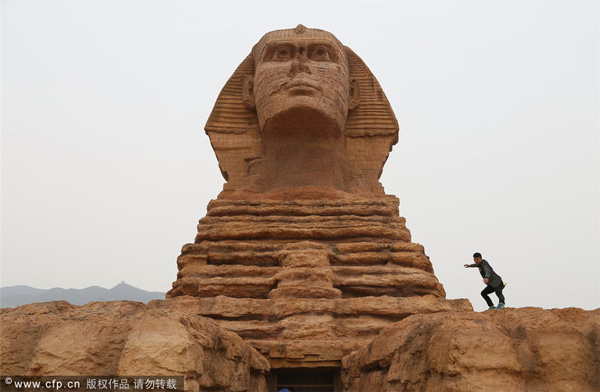 This photo taken on May 10 shows a real size model of the Great Sphinx of Egypt at a film shoot base in Shijiazhuang city, capital of North China's Hebei province. The structure measures 60 meters in length and 20 meters in height, and visitors can enter through the doors to take a tour inside. But unlike the real Sphinx, which is a stone structure, the copycat has a steel skeleton and a cement shell that is painted to look like the monolith's limestone surface. [Photo/CFP] More Photos
SHIJIAZHUANG -- A replica of Egypt's Sphinx built in north China that caused controversy will be dismantled, said builders of the structure.
An official with a cultural park on the outskirts of Shijiazhuang, capital of Hebei Province, said, "The imitation will serve as a temporary scene for shooting movies and television dramas and will be a one-off."
Chinese netizens and Egypt had complained about the replica.
A source with Egypt's ministry of antiquities told Xinhua the ministry had complained to the United Nations Educational, Scientific and Cultural Organization about the Chinese imitation.
"We are very respectful to world cultural heritage and express our apologies for any misunderstanding," said the official, who declined to be named.
The official said they did not intend to copy the Sphinx to make money from it.
The replica, about 80 meters long and 30 meters tall, is made of steel bars and cement.
The original half-human, half-lion Sphinx, is believed to have been built by Egyptians 5,000 years ago. The statue is 73 meters long and 21 meters high. It sits on the west bank of the Nile River near the great pyramids of Giza to the west of Cairo.