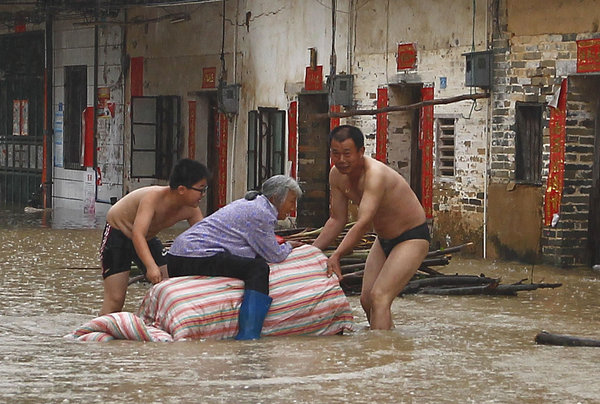 Villagers try to help an 83-year-old woman get to her home by putting her astride an oil drum covered with fabric in Dapu village, Zengcheng city, Guangdong province on May 23. [Photo/CFP]
BEIJING - Torrential rain in Guangdong province has killed at least seven people, injured four others. And 170,000 have been affected. Continuous rain has also severely affected Jiangxi province and the Guangxi Zhuang autonomous region.
The latest rains in Jiangxi, began on Wednesday, affecting around eighty thousand people. Some two thousand have been transferred to safer areas.
And in Guangxi, the rainstorms have caused floods and landslides, affecting more than 100,000 people in thirteen townships. 2,200 people have been driven from their homes. The rain has now weakened in most of southern China except Guangdong.