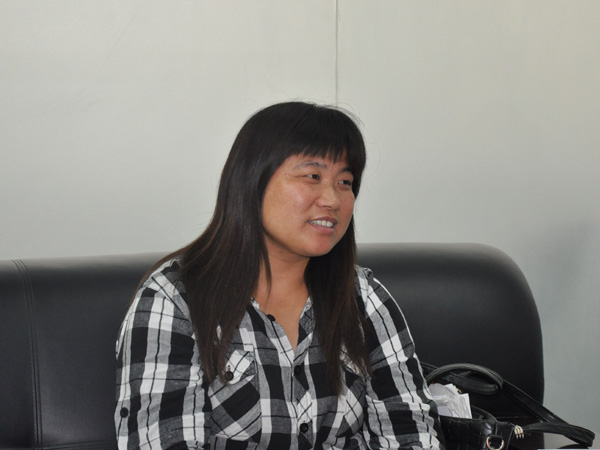 Wu Chunxia smiles after winning a lawsuit against local police, who detained her at a mental hospital for 132 days. Chen Wenjie/For China Daily
A woman who was forced into a mental hospital by police for more than 100 days is happy to have won a judgement against them, despite no punishment or compensation being ordered.
"I have striven since 2009 to win my lawsuit against the police for illegally detaining me," Wu Chunxia said in front of the Henan High People's Court, holding the written judgement. "Indeed, I just wanted to prove I was not crazy, even though they forced me into a mental hospital for 132 days."
The court issued its final adjudication on the case on May 21, finding that the local police authority committed an illegal administrative act.
Wu shuttled back and forth between her home village of Zhoukou and Zhengzhou, the capital city of Henan province, during her long court battle. Looking back on the years of legal fighting, she said the biggest nightmare was her horrific stay at the Henan provincial health center, a mental hospital.
In 2008, due to marital discord, Wu's husband would not allow her to see their son, so Wu traveled to Beijing to petition the All-China Women's Federation for help, but was intercepted by local police on the way. Some months later, after Wu returned, she was detained.
"The strangest thing is that I was seized from my divorce hearing by police who had no documents and then I was detained for 10 days", Wu told China Daily.
Wu said she did not know why, and it even shocked the judge at the divorce hearing, who immediately dialed the police to ask why she had been detained.
The local authorities sentenced Wu to one year of laojiao, or re-education through labor, without trial. During that sentence, she was detained at the mental hospital in Xinxiang, where she was treated as a paranoid schizophrenic.
She said she was subjected to electric shock treatment three times a week and made to take psychiatric drugs three times a day while in the hospital.
Wu lived in a room with five patients with severe mental health problems, whose screams during the night and fighting frightened her. Her relatives were not allowed to visit her in the hospital.
"The words 'forbidden to go outside, forbidden visitation' were written on my case record," Wu said, "The harder I tried to prove I was normal, the more they said I was actually sick."
She even attempted suicide to end her troubled life, which a nurse reported to hospital superiors, and Wu was eventually released.
But her terrible memories and the stigma of being called crazy continued to disturb her, whether out in society, with her family or even in her dreams.
After her release, she began researching her rights, by reading law books and contacting courts and lawyers for help.
In 2009, Wu sued the mental hospital and was granted 145,300 yuan ($23,295) in compensation. But she did not stop there.
"When I left, my weight had increased about 20 kilograms during that 132 terrible days due to the hormonal medication, and I still suffer from a series of health problems now. My heart is not as good as before," Wu said.
"I need an explanation from the police of why they sent me to the mental hospital."
In 2012, Wu sued the branch of the police department that sent her to the hospital.
She said she was very happy to hear the court's judgment, which was a great return for her hardship.
"Next, I want to have a peaceful life and find a job, if possible. I wish I could have a new family", Wu said.
qixin@chinadaily.com.cn