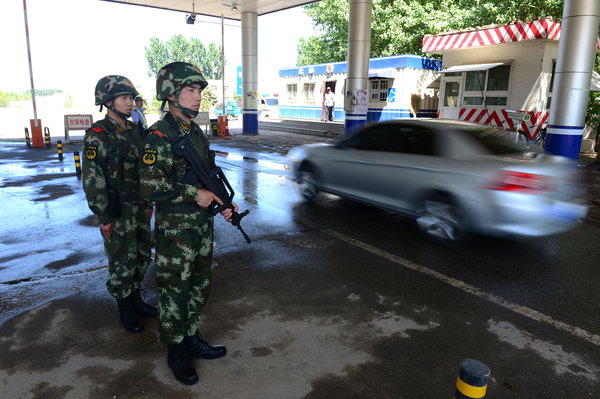 Two armed police officers are at one of check points on expressways and roads that connect Beijing with the neighboring cities and provinces on May 20, 2014. [Photo/CFP]
Beijing has stepped up security measures to inspect vehicles and people coming into the capital city, the Beijing Times reported.
The city has deployed more than 100 armed police officers to 17 checkpoints on expressways and roads that connect Beijing with neighboring cities and provinces since Tuesday. Each point will be staffed by five groups of officers who work a 24-hour shift until mid-June.
Ma Desheng, head of the branch of Beijing armed police corps where the military officers come from, said they were picked two weeks ago and received training to handle emergencies.
On Tuesday afternoon, several vehicles were waiting for inspection at a checkpoint in Shunyi district by a police officer and two armed officers.