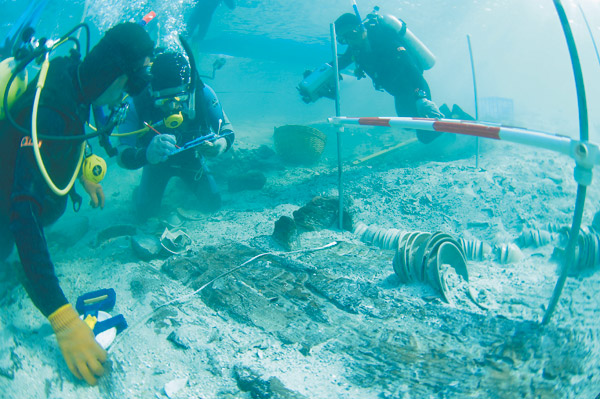 Three archaeologists check porcelain wares at the Huaguangjiao No 1 site near Xisha in the South China Sea in 2007. The shipwreck is believed to date to the Song Dynasty (960-1279). [Provided to China Daily]
GUANGZHOU - With the excavation of the wreck of an ancient Chinese merchant ship, archaeologists expect to find a trove of historical relics, unveiling more details of the Maritime Silk Road.
The first phase of the excavation of the vessel, Nanhai No. 1, will finish at the end of this month, Sun Jian, technical director of the Underwater Cultural Heritage Protection Center of the State Administration of Cultural Heritage, told Xinhua on Wednesday.
"After a five-month break to avoid the negative impact of the hot summer on the vulnerable ship, we will launch the next phase in October," Sun said, noting that all the upper silt has been cleared off the ship.
The 30-meter-long vessel was hoisted from a depth of 30 meters below the surface of the South China Sea in late 2007.
Since then, it has been submerged in a sealed pool, dubbed the "Crystal Palace," at the Maritime Silk Road Museum in Yangjiang in south China's Guangdong Province.
Sun said it would take three more years to fully complete the excavation work.
First discovered in 1987 off the coast near Yangjiang, Nanhai No.1 dates back to the Southern Song Dynasty in the 13th century and is recognized as one of the oldest and biggest merchant boats ever sunk in Chinese waters.
Sun said the work of clearing silt in the current stage is important as it will allow archaeologists to extract animal and plant specimens to conclude where the ship had sailed, unveiling more details of the ancient trade route of the Maritime Silk Road.
As early as 2,000 years ago, ancient Chinese traders began taking china, silk and cloth textiles and other commodities to foreign countries along the trading route. They left from ports in today's Guangdong and Fujian provinces and sailed to countries in Southeast Asia, Africa and Europe.
Archeologists estimate that there are about 60,000 to 80,000 antique items in the wreck, most being porcelain, precious metal objects and coins. The relics recovered from the ship are expected to shed light on the prosperity and workings of ancient trade.
"From the relics already recovered, archaeologists have concluded that businessmen from Arabian countries and India might have lived on the ship," Sun said.
The Marine Silk Road, like the ancient Silk Road that connected China with south, west and central Asia and Europe, was also a bridge for connecting Eastern and Western cultures, said Huang Tiejian, Curator of the Maritime Silk Road Museum.
"The ancient Marine Silk Road is not only a route of trade, but also a route of cultural exchange," Huang said. "With its help, China and other countries were able to enjoy prosperity at the same time."