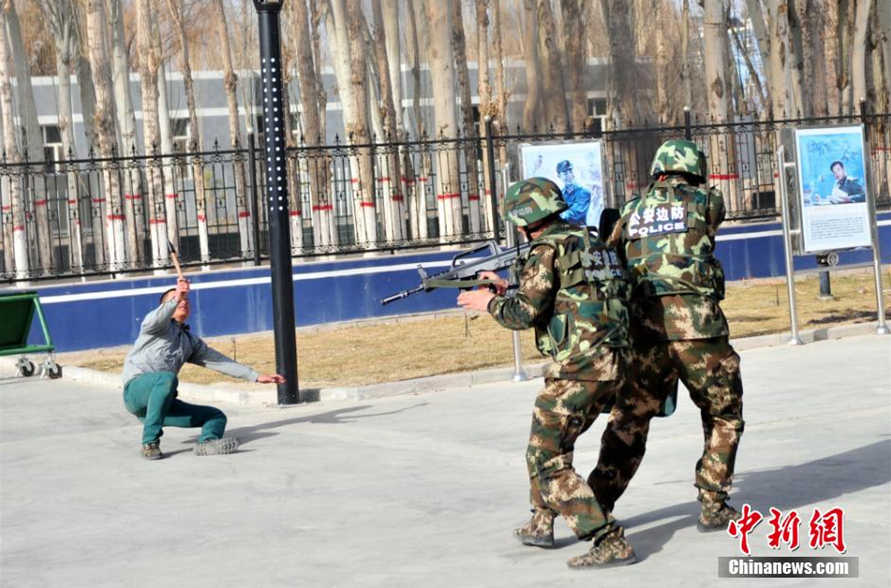 Police attending an anti-terror drill aim at a suspect at a border police station Xinjiang in this April, 2014 file photo. [Photo/Chinanews.com]
Thirty-nine people in Northwest China's Xinjiang Uygur autonomous region have been found guilty of spreading online terrorism videos and other crimes, the region's High People's Court said on Wednesday.
The criminals were also convicted of organizing, leading and participating in terrorist organizations, inciting ethnic hatred, ethnic discrimination, and illegally making guns, the court said.
The convicts, who were charged in 16 cases, were tried in six prefectures of the autonomous region on Tuesday.
In one case, Memetniyaz Eny was jailed five years for spreading comments on ethnic hatred to 1,310 netizens through QQ, a popular online social networking tool.
In another case, Memet Hamt was jailed 14 years for illegally manufacturing guns to prepare for a "holy war" after watching terrorism videos through his cell phone.
Those who are involved in terrorist activities will be severely punished under the law, said the statement.