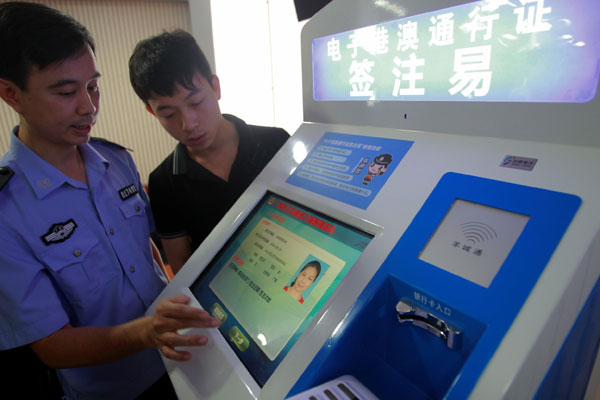 An official from the Guangzhou exit-and-entry police shows how to use a self-service machine for the new e-permit, created for people commuting between the mainland and Hong Kong and Macao. Zou Zhongpin / China Daily

The Ministry of Public Security is piloting a program to allow e-permits for mainland travelers to Hong Kong and Macao.
The program would first apply to travelers who are registered in Guangdong province, which borders the two special administrative regions. The province's exit-and-entry administration began accepting applications for e-permits on Tuesday.
The e-permits, which are smart cards with integrated chips containing a cardholder's personal information, fingerprints and entry endorsement, are expected to gradually replace the current use of paper permits.
E-permits for citizens 16 years or older will be extended from their existing paper permits by five to 10 years. For those under 16, the e-permit will be valid for five years.
It will take 10 working days to acquire an e-permit, and authorities will first issue e-permits to citizens whose paper permits will expire within a year.
"The new e-permits are easier to carry and will make it faster for commuters to get through checkpoints," said Xie Xiaodan, head of the Guangzhou public security bureau, who handed the country's first two e-permits to two residents of the provincial capital at a Tuesday news conference.
Deng Yuebing was one of the two given e-permits.
"I used to wait one and a half hours in line to pass the checkpoints because the police need to manually verify cardholders one by one by checking the information on paper permits, like photos and endorsements," Deng said.
"But now apparently it will take only 10 seconds to get through a checkpoint. All I need to do is to swipe the smart card and press my fingers on a scanner for verification of my fingerprints."
The 42-year-old woman, who visits Hong Kong and Macao about 10 times a year on shopping trips, said she plans to go to Hong Kong this month because of the introduction of the e-permit.
Guangdong has completed 30 percent of the work to install and test its self-service checkpoints, according to Guangzhou-based newspaper Yangcheng Evening News.
"I think the e-permit is also safer than a paper permit because it contains my fingerprints. I don't need to worry that someone else will use my paper permit and identity," Deng added.
Chen Jianyi, deputy director of Guangzhou's exit-and-entry police, said that with fingerprint verification, the e-permits will make it easier to regulate exit and entry points.
She said that last year authorities at checkpoints found 10 cases in which photos on paper permits didn't match the holders' appearance. In some cases, the cardholder carelessly used a photo of his or her sibling with a similar appearance. In other cases, the paper permits were used illegally.
In 2013, mainland visitor arrivals to Hong Kong increased by 16.8 percent year on year to about 40.5 million, while arrivals to Macao increased by 10 percent to more than 18.63 million, according to Xinhua News Agency.
xujingxi@chinadaily.com.cn