Chinese people have been watching television shows exclusively on the Internet for the past five years, but it is only now that the industry is consolidating, according to Shang Na, chief of the video section of Sohu.com.
China has about 450 million online video viewers, nearly80percent of its total Internet-connected population. The number is expected to reach 700 million by 2016, according to the China-based marketing consultancy agency iResearch.
Online TV shows can be watched on any device at any time as long as there is an Internet connection.
Absolutely Unexpected, a series produced by Youku.com, has been viewed about 500 million times since it premiered in 2013 and Diors Man, another show by Sohu.com, registered around 1 million views.
"The era of online TV has arrived. The next step for video services is distributing original content," Shang says. He spoke at a recent forum in the Guangxi Zhuang autonomous region.
Liu Heping, a scriptwriter and deputy head of the scriptwriter working committee for China Radio and Television Association, says, "Television has to make way for online video".
Liu plans to produce his own online TV show based on the life of Zeng Guofan, a top military commander from the Qing Dynasty (1644-1911).
Video websites such as Youku, Sina and Sohu, also show dramas and comedies from the United States, South Korea and Europe.
The industry, however, is facing tough controls.
China's regulator, the State Administration of Press, Publication, Radio, Film and Television, ordered Diors Man to be removed from Sohu.com on April 29.Additionally, four popular TV shows from the United States were pulled out of Chinese online streaming space. The reasons are not yet known.
In March, the regulator had pointed to a rule that required online programs to be screened prior to public viewing and last month, SAPPRFT warned Sina.com that its online publishing license might go after articles and video content fell foul of China's anti-pornography movement.
The "Cleaning the Web 2014" campaign has already led to about 110 websites being shut down and the deletion of some 3,300 accounts on social media.
The regulator has vowed to continue its crackdown on online pornography and punish violators, whether through fines, stripped licenses or criminal prosecutions.
Copyright infringements are another concern for video streaming services. This month, QVOD Technology shut down its QVOD (quasi video on demand)servers after the National Copyright Administration said the company, along with Baidu's video service, violated copyrights.
QVOD, with a user base of around 300 million, used to offer pirated videos and pornography with the facility of peer-to-peer video streaming technology.
Despite all this, there is faith in the industry. Jin Dao, a script writer, believes the trend is irreversible. "The Internet is very likely to be the platform for China's culture industry in the near future."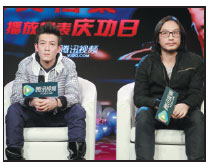 Edison Chen (left)stars in Blind Spot, which is directed by Danny Pang and broadcast on v.qq.com. Provided to China Daily
(China Daily 05/20/2014 page19)