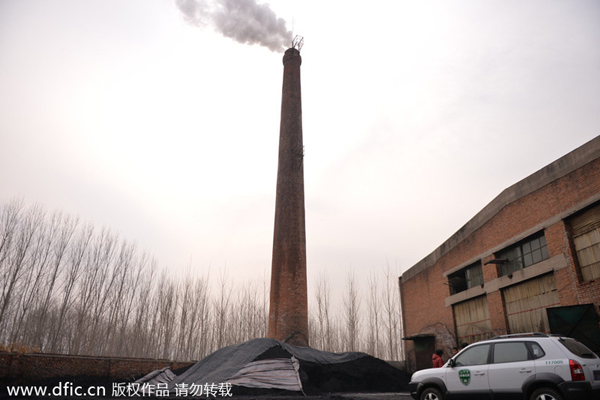 Smokes rising from a chimney inside a factory in this

February, 2014

 file photo in Beijing.[Photo/IC]
Beijing will move 300 heavy polluters out of the capital before October to reduce smog and speed up industrial reform, according to authorities. The companies, which have high water and energy consumption, include construction material and furniture manufacturers.
"These factories and companies will be relocated in nearby cities or regions after technology upgrading and product restructuring," said Zhang Boxu, director of the Beijing Commission of Economy and Information Technology.
Zhang was speaking at a recent conference in Beijing.
Several nearby areas, including Hebei province, Tianjin and the Inner Mongolia autonomous region, were holding discussions on accepting some of the companies, he added.
Beijing authorities say 288 enterprises were moved out of the capital in 2013, which help the city to cut sulfur dioxide emissions by 7,000 tons.
Despite significant efforts in fighting pollution, the report from the municipal environmental protection bureau said the capital's air quality in 2013 did not improve.
The average index for PM2.5, particles smaller than 2.5 microns that can penetrate the lungs, reached nearly 90 micrograms per cubic meter last year, exceeding the national standard for good air by 156 percent.
Beijing authorities are also drawing up guidelines to encourage polluting enterprises to move out and are cracking down on illegal plants that cause pollution.
Beijing Lingyun Construction Materials and Chemical Co, a State-owned pharmaceutical company, has moved from the capital's Fengtai district to Handan, a city in Hebei province.
Handan Mayor Hui Jian told local media the new production base, with environmentally friendly facilities and technology, would help reduce carbon dioxide emissions by 400,000 tons, sulfur dioxide emissions by 9,000 tons and dust by 10,000 tons annually in Beijing.
Hebei was home to as many as seven of China's top 10 polluted cities last year, according to the Ministry of Environmental Protection.
Yang Fuqiang, a senior adviser at the National Resources Defense Council, said Beijing's plants should be moved to western or central areas to enable fast economic development.