A Chinese court has sentenced a businessman holding a US passport to 20 years in prison on charges of heading a mafia-style group that illegally detained rivals and operated casinos.
Guangzhou Intermediate People's Court, in Guangdong province, said in a statement late on Thursday that Hu Weixing, also known as Vincent Wu, operated casinos that netted 48 million yuan ($7.8 million).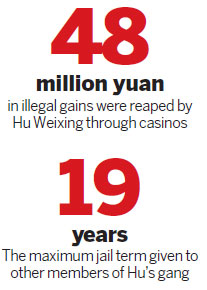 Since 2004, Hu had gathered his family members and other ex-convicts to carry out illegal activities including coercive land requisitions, operating gambling houses and causing illegal injury, the verdict said.
He was convicted of injuring one person seriously and two slightly, beating and illegally detaining others, owning explosives and destroying public and private property.
In July 2004, Hu told three people to slash Hu Yuhui with knives in revenge for the latter reporting his criminal activities to the authorities. The three were later paid by Hu Weixing, according to the verdict.
In March 2010, Hu Weixing hired others to pour sulfuric acid onto the back of a judge surnamed Ke, who had presided over a lawsuit that Hu lost, the verdict stated. The judge was slightly injured.
About two dozen other defendants in the case were sentenced to between 19 months and 19 years in prison on Thursday.
Many of them claimed in court that their confessions were a result of harsh treatment by police during questioning. But the court did not accept the allegations, which were denied by police in Huizhou, where questioning was carried out.
Hu Weixing's daughter, Anna Wu, and lawyer Wang Shihua said Hu would appeal. Hu's family said he is a law-abiding businessman whose rivals had framed him to seize his assets.
Hu Weixing left the Chinese mainland in the late 1970s as a stowaway to Hong Kong, where he obtained residency. He and his family moved to the United States in 1994, settled in Los Angeles and he later became a US passport holder.
Before being detained in June 2012 in a police raid on his company, Hu shuttled between his family in Los Angeles and his business in China.
The court said he was tried as a Chinese citizen because he last entered the mainland on his Hong Kong residence permit, and the mainland does not recognize dual citizenship.