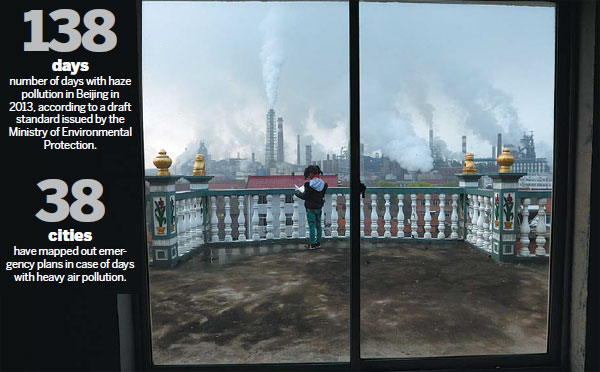 A girl reads a book on her balcony as smoke rises from chimneys of a steel plant on a hazy day in Quzhou, Zhejiang province. Air pollution has become a growing concern for most cities in China. Reuters
The Ministry of Environmental Protection has drafted definitions for the conditions that qualify a day as having haze pollution.
The primary indicator of haze pollution is PM2.5, particles with a diameter of less than 2.5 microns, which can penetrate the lungs.
A haze pollution day occurs when the average concentration of PM2.5 is above 75 micrograms per cubic meter and visibility is less than 5 km for more than six consecutive hours due to an increasing concentration of fine particulate matter in the air.
According to the new criteria, Guangzhou had haze pollution for 14 to 15 days in 2013, while Beijing had 138 days with haze pollution and Shenzhen had none.
However, a technical standard published by the China Meteorological Administration in 2010 said haze pollution takes place when visibility is less than 10 km due to reasons other than precipitation, sandstorm or dust, which would mean Guangzhou had 51 haze pollution days last year alone.
A Guangzhou Daily report also quoted an unnamed insider as saying the ministry's new criteria on haze pollution days seemed "too slack".
In November, the ministry published an instruction that urged local governments to establish emergency management systems against haze pollution.
According to an earlier report by www.people.cn, 38 cities across China prepared such emergency plans, with measures including shutting down polluting factories, temporary traffic restrictions and suspending classes at primary and middle schools.
However, local governments in different regions use different criteria to define haze pollution days, which is the reason the ministry published the unified standard.
chengyingqi@chinadaily.com.cn