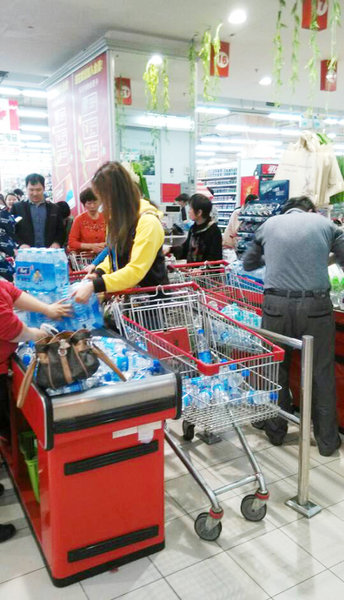 Residents in Jingjiang City of east China's Jiangsu province stockpile bottled water on Friday after the city's water supply was suspended. [Photo/CFP]
A city along the Yangtze River suspended its tap water supply for hours on Friday in the country's third major water pollution case in a month.
The government of Jingjiang, Jiangsu province, announced the suspension on its micro blog around 11 am, citing a "pungent smell" in the river and prompting residents of the city and nearby areas to rush out to buy bottled water.
The water supply in Jinjiang, which has a population of 680,000, was resumed at 5 pm, the government said.
The city's environmental protection bureau said the reservoir at the Yangtze will not be used until the cause of the pollution is found. Water from a safe reservoir is being provided to residents.
The province's environmental protection department has sent a panel of experts to investigate.
"No ship accidents or chemical spills have been found along the banks of the river near Jingjiang," said Li Hongguang, director of the local maritime safety administration, refuting rumors that the pollution was caused by a sinking boat delivering pesticides.
"When I rushed to a supermarket after hearing about the contaminated water, bottled water had already been sold out," said Zhang Haikang, a Jingjiang resident, who then tried to buy bottled water from e-commerce sites, such as Taobao and Jingdong.
"The sellers promised the water will be sent to my home on Saturday morning," said Zhang. "I won't drink the tap water until the reasons for the pollution are given."
Residents in some neighboring cities, such as Jiangyin and Nantong, have also depleted the supply of bottled drinking water in supermarkets.
Shen Mao'en, a resident of Nantong, said all of her colleagues phoned their family members to rush to the supermarkets to buy bottled water, since they were in the office.
Neighboring Taizhou, Taicang and Shanghai have posted on their official micro blogs that their tap water is safe to drink.
The Yangtze River is the country's longest and is the main water source for many cities along its banks.
Jingjiang has many chemical, textile and shipbuilding enterprises, some of which are along the riverside.
In recent weeks, Lanzhou in Gansu province and Wuhan in Hubei province suspended their water supply after contamination.
Contact the writers at cangwei@chinadaily.com.cn and songwenwei@chinadaily.com.cn