Among 294 cities, Shanghai scores 10th best, Beijing 41st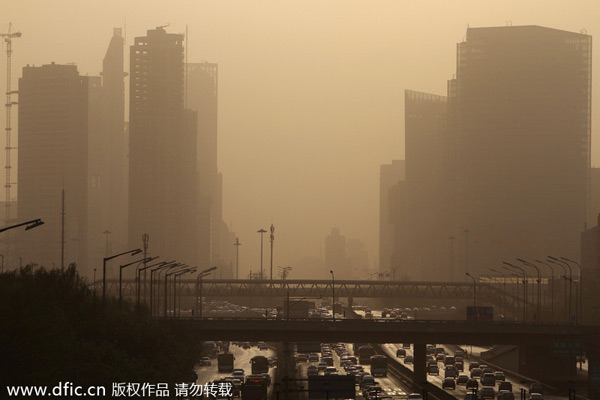 Urban Beijing is enveloped by sand on April 9, 2014. [Photo/icpress.cn]
Beijing came in 41st in a list of Chinese cities ranked for their livability, while Shanghai fared better at 10th, according to a research report released on Friday.
"Beijing lost points because of poor air quality and high housing prices," said Ni Pengfeng, director of the Urban and Property Research Center of the Chinese Academy of Social Sciences.
The report was based on evaluations of 294 cities. Nine factors were taken into account, including living conditions, city harmony and cultural competitiveness.
Air pollution has been a major problem for big cities in China. In 2013, more than 100 cities saw an average of 29.9 smoggy days, a 52-year high.
Of the 10 worst cities for monthly air pollution, ranked by the Ministry of Environmental Protection last year, many were in Hebei province, which surrounds Beijing.
Pollution is driving expatriates out of Chinese cities and dissuading others from coming. The Associated Press reported earlier this year that the number of overseas visitors to China had declined from early last year because of air pollution.
To reduce the cost of pollution penalties paid to the government, and to reduce emissions going forward, Beijing's four main coal-fired power plants have begun installing purification systems.
They have also reduced their coal consumption by 200,000 metric tons during the first quarter of this year compared with the same period last year, burning a total of 2.6 million tons, according to the Beijing Environmental Protection Bureau.
High property prices are another unfavorable factor for Beijing, but it's not alone on that score. The report said the average price for newly built houses in Beijing, Shanghai and Shenzhen was more than 30,000 yuan ($4,820) per square meter.
"More people in rural areas are going to the cities amid urbanization, and this boosts the housing demand," said Gao Peiyong, director of the National Academy of Economic Strategy, noting that the government is encouraging the shift.
"The key point is standardizing public services in both rural and urban areas, such as education and medical services. Then people from rural areas will have a wider range of voluntary choices when considering whether to leave their hometown for bigger cities," he said.
yangwanli@chinadaily.com.cn