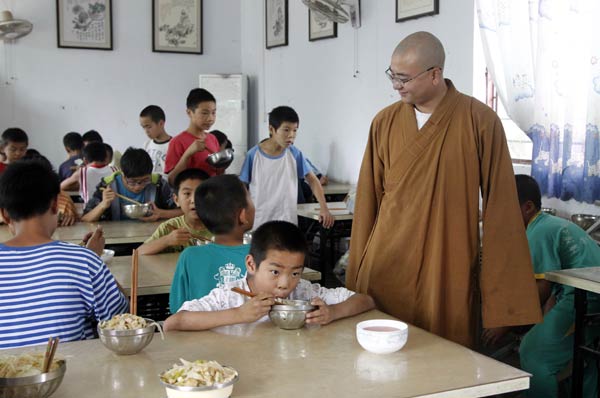 A monk takes care of abandoned children at a child welfare home run by the Shaolin Temple in Dengfeng, Henan province. Shen Xiang / For China Daily
China has issued a new rule prohibiting religious organizations from forcefully indoctrinating abandoned or orphaned children under their care.
Religious groups and organizations should guarantee the rights and interests of children in line with the law, according to a notice issued by the Ministry of Civil Affairs and the State Administration for Religious Affairs.
Dong Hui, an official in charge of child welfare at the Henan Bureau of Civil Affairs, said the three major religions in China - Buddhism, Christianity and Islam - all have long histories of encouraging their followers to do philanthropic work and that the government welcomes the participation of religious groups in solving social issues.
But it draws the line at compulsion. According to the Constitution, Chinese people can choose to believe in any religion or choose not to be religious.
"A person's personality can be shaped easily in childhood," Dong said. "And to avoid some people's taking advantage of that, it is important for civil affairs departments to strengthen their supervision of social organizations, including religious ones, to protect children's rights."
Tong Xiaojun, a professor specializing in child rights at China Youth University for Political Sciences, said on Tuesday that the implementation of the rule would not be easy.
"Religious activities can be a vital part of daily life for any religious group or organization. A child growing up in such an environment will be affected more or less, so how do you tell whether their faith in a religion is forced or not?" she asked.
Zou Xiang, a communication official from the Shaolin Temple in Dengfeng, Henan province, said the temple's abbot, Shi Yongxin, founded a child-welfare home in 2004. Today, more than 120 parentless children live there.
"Our abbot has said that all children enjoy the freedom to choose their religion, and we just provide a safe shelter for them," he said, adding that the home is 10 km from the temple.
A worker in the home, who asked to be identified by her surname, Guo, said children are never forced to become vegetarians or to read Buddhist teachings. But they are encouraged to learn Confucian classics and Shaolin kung fu on the weekends.
The circular made public on Monday also says that stable financial resources, sufficient manpower, fire prevention capability and hygiene and disease control are preconditions for any religious group to shelter abandoned or orphaned children.
Civil affairs departments should provide monthly living subsidies for abandoned children and orphans living in temples, churches or other places run by religious institutions, the circular said.
Contact the writer at hedan@chinadaily.com.cn and qixin@chinadaily.com.cn
Wang Huazhong in Yinchuan contributed to this story.