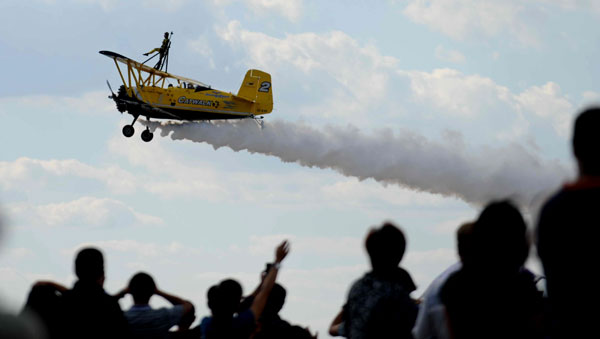 An air show at Shenyang General Aviation Industry Base, Liaoning province, thrills visitors. General aviation industry in China is in its infancy, experts said. Zhang Wenkui / For China Daily


Some private airplane owners skirt regulations for lack of infrastructure
The government should further streamline the approval procedure for general aviation flights to help check rampant irregular flights, experts have suggested.
"Tight air traffic control, complicated application procedures, restricted use of low-altitude airspace and the high cost of operations have long plagued private aircraft owners," said Wang Ya'nan, deputy editor-in-chief of Aerospace Knowledge magazine.
"Though the government has worked out a host of new policies to reduce review procedures, you still have to wait some time before receiving approval," he said, adding that this has caused some pilots to evade regulations to save time.
"In addition, the shortage of airports servicing general aviation and the high costs for using such airports lure jet owners and pilots to circumvent government-run facilities."
Wu Peixin, an aviation observer in Beijing, said: "Many jet owners are willing to pay the fine if they are caught for an unapproved flight, rather than waiting nearly one month for authorities' review of a 30-minute flight."
"They know that radars are normally unable to detect them because they usually fly at a low altitude," he said.
Wu made the remarks after some violations made headlines recently.
A two-seat light aircraft landed on a road in Mianyang, Sichuan province, on April 8 and taxied into a gas station to refuel.
Local media reported the act after passers-by posted pictures on the Internet, prompting authorities to investigate.
The manufacturer of the plane said a foreign pilot who was conducting a test flight found the aircraft did not have enough gasoline to fly back and so decided to land near the gas station to refuel.
However, investigators found that the flight had failed to obtain approval from authorities, and the pilot had no Chinese license.
In December, four people were detained by police after more than 10 commercial flights at Beijing Capital International Airport were delayed by an unmanned aircraft they controlled to conduct a geographic survey.
In 2012, a flight event for ultralight planes organized by a private enterprise in Hainan province was stopped by the air force for disturbing the training of military aircraft.
"Each flight by general aviation aircraft must apply for designated airspace from the air force and get authorities' approval," said Wang Qiang, an expert with the China Air Transport Association's general aviation commission.
One private aircraft owner said rules should be more flexible.
"I don't think such regulation is reasonable in the Sichuan case. What if I have already flown out of the designated area and found the plane is short of fuel?" said the owner in Wenzhou, Zhejiang province, who spoke on condition of anonymity.
"I know such a situation is very rare, but considering the limited general aviation infrastructure, sometimes you have no other choice but to break the rules to respond to in-flight emergencies."
Jin Junhao, head of the general aviation division at the administration, told China Weekly magazine earlier that nearly 400 private aircraft had not been registered, while about 1,000 had registered.
zhaolei@chinadaily.com.cn