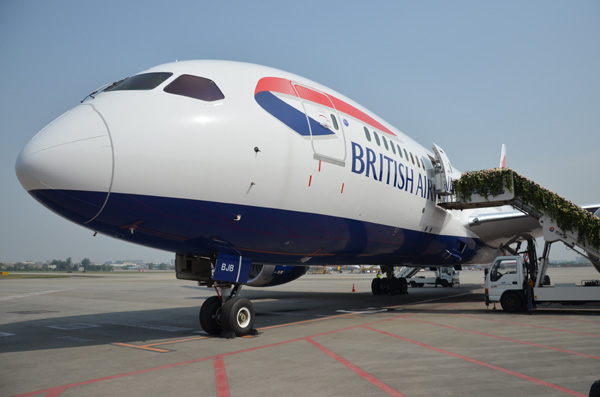 A Boeing 787 arrives at Chengdu Shuangliu International Airport, May 6, 2014. British Airways has increased the number of flights from London to Chengdu, capital of Sichuan province, from three to five a week. Photo by Peng Chao
British Airways increased the number of weekly flights to and from Chengdu from three to five on Tuesday, less than eight months after opening the direct route from London.
The airline also replaced the Boeing 777-200 jets on the route with new Boeing 787s.
British Airways CEO Keith Williams said British Airways has four Boeing 787s in service, and Chengdu, the capital of Sichuan province, is one of the four British Airways destinations to receive the jetliners.
The Boeing 787 has 214 seats, which means the airline will have more than 1,000 seats a week to and from Chengdu, he said.
Tracy Dedman, British Airways' regional general manager for Greater China and the Philippines, said the company "see a lot of potential in Chengdu".
Chengdu is the fourth Chinese city in China to have a direct flight to the United Kingdom, but the first to receive the new jetliner, she said.
Chen Zhongwei, director of Chengdu's logistics office, said the city is attracting increasing attention from foreign airlines as it becomes an international city.
"United Airlines will launch a direct flight between Chengdu and San Francisco in June," Chen said.
The local government is also planning new routes, linking Chengdu to other international cities, including Istanbul, Moscow, Paris and Dubai, he said.
By 2015, Chengdu plans to build itself into an international aviation hub with 36 direct international routes carrying 50 million passengers a year.
pengchao@chinadaily.com.cn