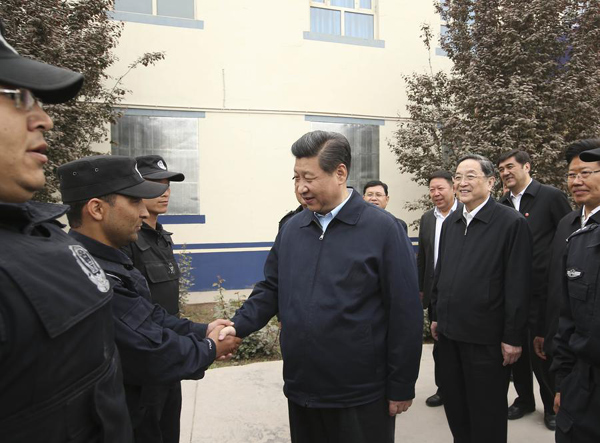 President Xi Jinping shakes hands with local policemen during his visit to Kashgar, Xinjiang Uygur autonomous region on April 28, 2014. [Photo/Xinhua]
URUMQI -- President Xi Jinping has stressed the role of the Xinjiang Production and Construction Corps in maintaining stability and promoting ethnic harmony as local people vowed resistance to terrorism after a fatal blast hit a railway station. 
"More efforts are needed to build the corps into a stabilizer of the country's border areas, a melting pot that integrates various ethnic groups as well as a model region that showcases advanced productivity and culture," said Xi during his four-day inspection in Xinjiang.
Xi, whose remarks were carried in a detailed statement on his inspection released Saturday, said the corps played a vital role in constructing the border areas and guarding the country's territorial boundaries.
Since the 1980s, Xi has been leaving foot prints all over Xinjiang in his numerous visits and inspections. Last year, he made 30-plus instructions concerning the region.
The corps, safeguarding nearly one third of the borderline in Xinjiang, will mark the 60th anniversary of its establishment this year.
"The existence and development of the corps is absolutely not an temporary improvisation but a long-term strategy. Under the new situation, the work of the corps can only be strengthened, not weakened," Xi said.
Over the past 60 years, the corps, which shoulders the dual task of production and security, has transformed the vast bare wasteland into new oasis and built a number of modern towns in the region.
Citing a letter written to Xi by a veteran from the corps which expressed the soldiers' passion and love for Xinjiang and the corps, Xi vowed that the Communist Party of China (CPC) Central Committee will keep paying attention to and supporting the growth of the corps.
During the trip, Xi visited a farm run by the corps and talked with local soldiers at a symposium.
Remembering serving his duty amid winter frosts and mosquito bites in summer in the past, Ma Junwu, a young soldier, said living conditions improved a lot over the years thanks to the support of the central government, which made many young people at the corps willing to stay.
"I'm determined to defend the country's borders here all my life," Ma said, winning Xi's applause.