Foreign travelers run up against computer limitations and overly picky station agents
Some foreigners have encountered difficulties buying train tickets in China due to a new ID verification policy, Chinese media reported.
"Many of my foreign clients have had problems when they went to collect the tickets they booked on 12306.cn, the booking website run by China Railway Corp, since the new rule took effect," Helen Xie, an employee for China DIY Travel, told Beijing Youth Daily.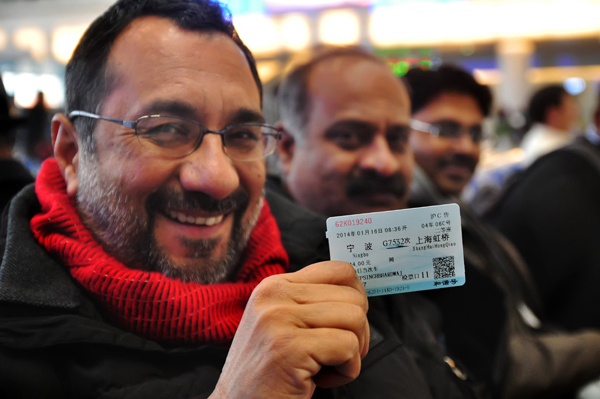 A foreigner shows his train ticket for a trip from Ningbo, Zhejiang province, to Shanghai during the Spring Festival travel rush this year. Hu Xuejun / For China Daily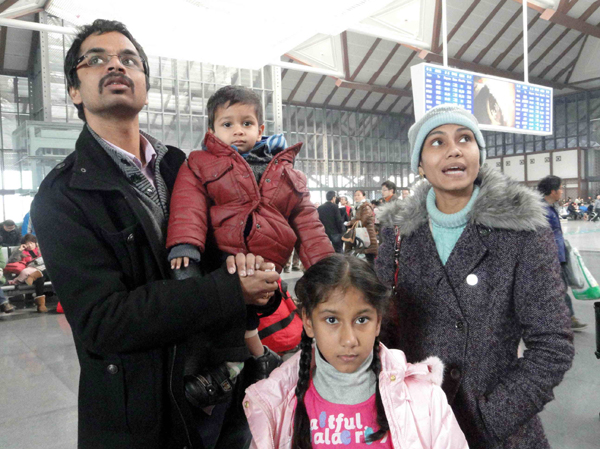 Foreigners check boarding information at Suzhou Railway Station in Jiangsu province. Wang Jiankang / For China Daily
The railway company adopted a stricter measure to verify identity information with what is printed on ID cards or passports on March 1, saying the move aims to prevent scalpers from using fabricated names to book tickets.
Passengers are required to have their identities checked at ticket counters in railway stations by presenting a valid ID certificate before purchasing or collecting their paper tickets.
However, the 12306 website does not allow a space or hyphen in names, creating confusion and trouble for some users.
Xie said one of his clients was rejected by a ticket counter worker who insisted there should not be spaces between the foreigner's names.
"His name is Martin Jeffery Thomas James, so he typed it in the online form," she recalled, "but the worker at the railway station refused to give his ticket because he failed to write his name out in full with no spaces in between so he 'violated' the new rule."
Another case involved a Canadian traveler, Louis-Pierre P Lepage, who was refused a ticket because the name printed on the ticket did not have a hyphen, and his passport did.
"It is ridiculous that the instruction on their website tells you not to include space and punctuation when filling in the name online but station workers later invoke the absence of a hyphen to refuse giving the ticket," Xie said.
The restriction on the number of English letters that can be typed in the online form also generates problems.
Xie said only 20 letters can be contained in the form, leaving a family of three from India having to input three names that seem identical.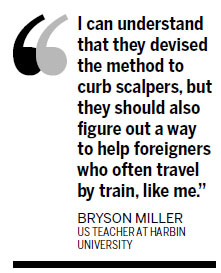 "The family came to China to see what the country is like and wanted to try a rail tour, but they never expected that their long names would become an obstacle to buying a train ticket in China."
Xie suggested the railway company allow buyers to use a slash to connect names and permit punctuation, which "will reduce the chance of misspelling and make it easier for railway station workers to check the names".
A receptionist with the 12306 hotline told China Daily that foreign passengers can type in punctuation contained in their names in the online form but need to have their information verified at a railway station before they are able to book tickets on the Internet.
"Should you have problems in collecting the tickets or if the station worker refuses to give you the ticket because he or she believes your information on the ticket does not match that on your passport, you can ask the counter head for help," said the receptionist, who declined to give her name.
"Or you can cancel the online booking and come to the ticket window at the station to buy," she suggested.
"I have reduced my travel plans after the new rule came into effect," said Bryson Miller, a 40-year-old teacher at Harbin University in Northeast China's Heilongjiang province. "I can understand that they devised the method to curb scalpers, but they should also figure out a way to help foreigners who often travel by train, like me."
Miller said some public service sectors in China should improve their services for foreigners.
"A worker with the driver's license management office in Harbin refused to issue me a Chinese license based on my US license because she believed that the steering wheel is on the right side in the US," he laughed. "So she said I must attend a driving test in China to see whether I can drive on the left."
In addition, some banks also restrict the number of letters that can be filled in online registration forms, thus creating difficulties for foreigners to register for online service, he added.
Tian Xuefei in Harbin contributed to this story.
zhaolei@chinadaily.com.cn