By 10 am on April 17, Tan Zheng had already been standing for one and a half hours on the second floor of the packed outpatient department at Beijing Children's Hospital.
People approached Tan, 39, with all kinds of queries. A man asked her where he could find an ATM. Another asked her how to get a refund for a test that his son did not want to go through with. An elderly woman needed help when she got lost in the building as she tried to visit a relative in one of the wards.
Tan often found herself surrounded by parents holding prescriptions for their children. They also asked her where to make payments or appointments, as well as for directions on where to get a blood or sonography test.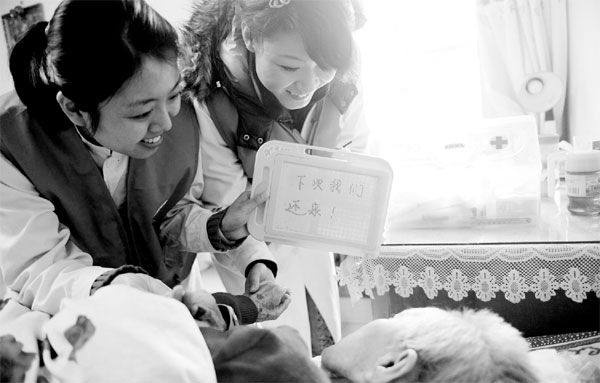 A volunteer working at Gansu Provincial Hospital tells an elderly patient who cannot speak that she will visit again with words written on a board. Zhang Meng / Xinhua News Agency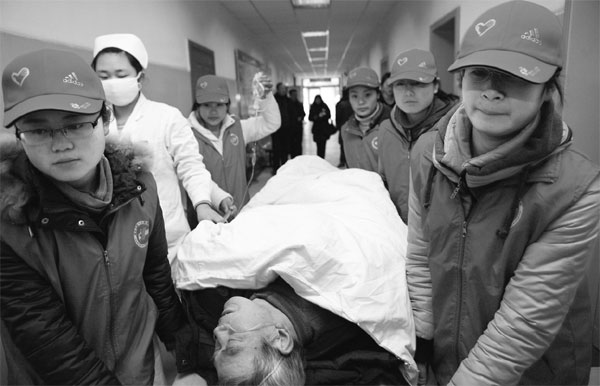 Volunteers help take an emergency patient for checks at Xiangyang No 1 People's Hospital in Hubei province. Medical students from a local vocational college established a volunteer team of 88 members. Wearing red caps, they come to the hospital to offer help during weekends and holidays. Gong Bo / For China Daily
For three hours, Tan answered these questions with an energetic and clear voice. She sometimes guided people who got lost on their way to complicated procedures.
Tan is a member of a team of volunteers who go to the hospital once or twice a week to help guide patients, taking pressure off the nurses at the reception desks.
"I used to take my children to hospitals a lot. I understand how much a parent is suffering when their children are visiting doctors," said Tan, a housewife and mother of two.
"Thus I would like to help relieve their mental stress by providing them detailed and patient guidance."
Li Ning, a hospital official who coordinates the volunteer work, said: "The hospital used to recruit its own medical workers as volunteer guides. However, they are already overburdened with their own work and can't be doing this for a long time. That's why we started cooperating with volunteers and getting their help."
Wang Feng, 31, who took his 5-month-old daughter to the hospital on April 17, said such volunteer services are soothing. He said they are especially comforting for those who arrive in Beijing from afar for the first time and are exhausted by traveling and finding a place to stay.
"Doctors and nurses are too busy to always answer these questions with patience. Volunteers, who only work here for a short period of time, can make it up with their nice attitude," he said, adding that volunteers work well as a buffer between hospital and patients.
Beijing Children's Hospital is not the only one in the city where volunteers share the work of medical professionals.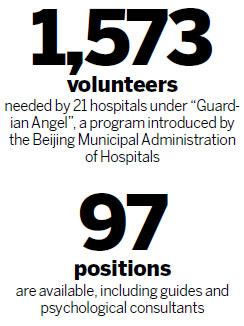 The Beijing Municipal Administration of Hospitals found in a survey that more than 10 hospitals in the city had their own programs for volunteers. Authorities are working on a program to attract more such volunteers, said Wei Jiang, deputy Party secretary of the administration.
Under "Guardian Angels", a program introduced by the administration in early April, 21 hospitals posted on the Beijing Volunteer Federation website asking for 1,573 volunteers for 97 positions. The positions included guides, psychological consultants, music therapists and hospice caregivers.
Beijing Children's Hospital also appealed for 60 more volunteer guides, as well as 30 volunteers to visit and entertain leukemia patients and 20 others to accompany patients during dialysis sessions.
"Almost 500 people have signed up for the posts. The public has responded very positively," said Wei, who added that volunteers help bridge hospitals and patients and enhance mutual trust by communicating with medical workers, the hospital administration and patients.
Limited role
But Wang, the father of the 5-month-old, said the voluntary service plays a limited role in relieving tension between hospitals and patients.
"The root of the tension lies in the misdistribution of medical resources," said Wang, who lives in southern Beijing's Daxing district.
"When people all swarm to large hospitals, it's hard for them to get an appointment, thus they will become frustrated and anxious. On the other hand, when they settle for small hospitals in their neighborhoods, they may suffer from poor medical service, which in turn will create more serious conflicts.
"I'm not so sure that hospitals in Daxing can provide good medical service for my daughter, who is suspected of having a hip joint dislocation," he said.
"My wife and I tried to make appointments with large hospitals on the Internet and on the phone, but found out we had to wait at least a month. I cannot wait that long given my daughter's condition," said Wang.
Wang took the earliest subway, at 5:30 am on April 16, to hospitals downtown before he finally got to visit an expert at Beijing Children's Hospital that day and made an appointment for a sonography test the next day.
"It will be very helpful if experts in large hospitals also come to work in other hospitals so that people can be treated in their own neighborhoods," he said.