Experts predict content will be enriched to include vocational skills, personal interests
Xie Kan, a former TOEFL (Test of English as a Foreign Language) tutor at New Oriental Education & Technology Group Inc, had never delivered a lesson to more than 200 students.
But in late April he set a personal record by teaching 1,500. And the venue was not your typical classroom but the 31 year-old's apartment.
Online education may have great potential in China, a country where many parents offer all they can to provide the best education for their children. According to Yu Minhong, CEO of the New York-listed New Oriental Group, education in the future will be a combination of online and offline, interdependent with each other. Lai Xinlin / For China Daily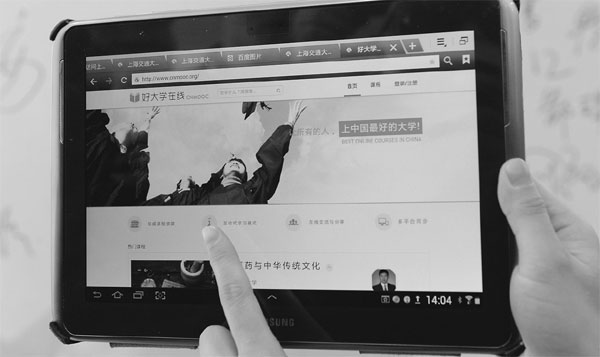 The online education market was valued by iResearch Group at 83.97 billion yuan ($13.6 billion) in 2013. Provided to China Daily
Instead of standing at the front of a classroom at New Oriental's Hangzhou branch, Xie taught from his bedroom via a computer, camera and microphone.
"It was a very productive session. The Internet can help bring the teacher's power to the next level by giving lessons to a great number of students at the same time wherever they are," he told China Daily. It was the main driver for him to take part in online education.
Xie, had eight years experience at New Oriental, a provider of private educational services in China. He is one of the first teachers to establish an online teaching business, at 100.com - an online education platform, from YY Inc, a Chinese live video-streaming platform.
Nasdaq-listed YY offers a video platform to its 600 million registered online gamers and singers. At a press conference in Beijing in February, the company said it would branch out into online education. 100.com is a separate platform dedicated to online education and held its first teaching session on April 22.
"Tapping the online education sector is our company's top priority for future development," CEO Li Xueling said at 100.com's launch: "Through introducing innovative products and services, the Internet will revolutionize the traditional education sector, as it has retail, finance and other sectors for years now," YY is not alone.
Investors, including China's e-commerce conglomerate Alibaba Group Holding Ltd, put $100 million in February into TutorGroup, a language-learning platform popular with Chinese learning English. It's the largest investment in China's online education sector.
According to Beijing-based venture capital and private equity firm Zero2IPO Group, at least 25 online education startups received a total of nearly $2 billion investment in 2013. It compares with $17 million invested in eight companies in 2012.
Online education may have great potential in China, a country where many parents offer all they can to provide the best education for their children.
The online education market was valued by Internet consultants iResearch Group at 83.97 billion yuan ($13.6 billion) in 2013.
There's an "increasing number of Internet users in China," Liu Dongmei, an analyst with iResearch, said. More of them are getting used to online classes and the number of learners in China is expected to grow from 67.2 million in 2013 to 120 million in 2017, Liu said.
"On one hand, Internet technology can help students enjoy the flexibility to learn whenever and wherever they want," Liu said.
"On the other hand, the content for online education is expected to be enriched with the increasingly diversified needs from students. Apart from getting the same lessons offered by traditional schools, people can learn a wide range of things online, either for vocational skills such as Photoshop or personal interest, such as guitar playing."
China lacks neither students nor teachers, she said. But how to match what teachers offer with students' online needs is a challenge faced by many platforms at the moment.
"There are many unsolved questions for online education platforms, such as a successful business model and people's willingness to pay for online lessons. But to push enough teachers and students online is the top challenge," Liu said.
To aggressively carve a market share, YY's 100.com plans to provide basic training for TOEFL and IELTS for free. Such prep classes for the two exams have been of the most profitable for many private education services in China. To attract even more students, 100.com promised to give 100 yuan to students who complete an online course.
To support their aggressive plan, YY said they will invest 1 billion yuan in the next two years on online education. The move may shake New Oriental's No 1 position, which has been the must-go school for Chinese students who want to study abroad.
YY CEO Li said teachers can gain more compared with working at a brick-and-mortar school where running costs are quite high.
"You need to build classrooms and get all the equipment and supplies. Not to mention, there is also the cost for management," Li said.
"The cost of running an online school is not that high. We don't need everyone to pay for their online courses and we intend to give the majority of the earnings to teachers," he said. More teachers may become entrepreneurs and set up their own online educational business, he said.
TutorGroup, established in 2004, is the largest English language-learning institute by number of active students. CEO Eric Yang said online education will become the dominant trend in the future, especially in language learning, and offline will be replaced by online sometime soon.
"Online technology provides students the ability to not only learn what they want, but in a style that best fit their needs," Yang told China Daily via email. "Online education uses technology to bring education on a global scale, while maintaining - and even optimizing - the interaction experience that students need for the best learning experience.
"The education system is shifting from being teacher-centric to student-centric. The modern student demands high quality, flexible, personalized learning. The current bricks-and-mortar education system is simply not equipped to do this at scale," Yang said.
Despite all the advantages online education seems to bring, Yu Minhong, CEO of the New York-listed New Oriental Group, doesn't think online learning will overtake offline schools to become the dominate education force.
"Online education may work for adults willing to learn something new and to improve themselves. But most of the young students in China are passive learners, who can only take in knowledge when teachers are around," Yu said.
According to Yu, education in the future will be a combination of online and offline, interdependent with each other.
Yu said his group will soon launch a new product to embrace the Internet and mobile-Internet era.
It's rumored New Oriental and Tencent Holding Ltd, China's largest Internet company, will set up a joint venture in online education. Both of the companies declined comment.
It's too early to tell what changes online education can bring to people's daily life.
It has already altered the way offline education operators do business.
After 100.com unveiled their plan to provide some free TOEFL and IELTS training sessions, New Oriental said in mid-April that it will provide some training sessions for China's national College English Test level 4 and level 6 without charging.
mengjing@chinadaily.com.cn