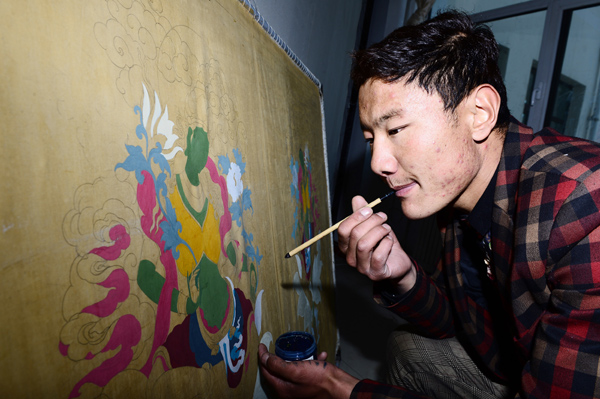 A student from Bayi Vocational School in Yushu, Qinghai province, works on a painting. Experts and officials are encouraging the development of modern vocational education to ease the imbalance between labor supply and the huge demand for technical talent. Zhang Hongxiang / Xinhua
How can China launch a manned spaceship but can't produce high-quality kitchen knives?
The question was raised by members of the Chinese People's Political Consultative Conference earlier this year and triggered a heated debate in China's education system, where experts and officials urged the development of modern vocational education to ease the imbalance between the labor supply and the huge market demand for technical talents.
"There is an urgent need to reform our current education system, which has been struggling to provide high-quality talents with skills and knowledge that meet the demand at the production frontline," Lu Xin, China's deputy minister of education, said at the recent China Development Forum 2014.
"The key for the reform is to push the development of modern vocational education, which will help ease the grim employment situation," Yin Jie, a CPPCC member and deputy director of the Shanghai Education Committee, said.
"Despite technical innovation, the lack of vocational skills for front-line workers has hampered the development of technologies and the upgrade of traditional manufacturing," said Yin.
Shen Qifang, a National People's Congress deputy and the vice-principal of Huzhou Vocational and Technical College, urged a more practical approach that adapts school courses to industrial requirements.
"For quite a long period, what the students learned at vocational schools had little to do with what the job required, and that reflects the split between education and industry in China," Shen said during a group interview on March 11.
Citing advanced vocational training methods in Germany and Australia, Shen suggested that more foreign experience and a new curriculum should be introduced to help develop vocational education as Premier Li Keqiang called for in the government work report.
Taking Germany as an example, Shen said its dual system, in which teaching content and methods are jointly determined by industries and training schools to reflect current industrial practice, attracts some 60 percent of school-leavers annually.
It has been a major factor behind the country's world-renowned manufacturing industry, according to WorldSkills International, a nonprofit association that promotes vocational training worldwide.
Inspired by foreign expertise, Shen said more international exchanges involving students and teachers have taken place in recent years, and overseas experience has started to pay off.
Dai Yuwei, president of Tianjin Light Industry Vocational Technical College, said a faculty training trip to Australia helped optimize his college's approach.
"We were highly impressed by their advanced curriculum and are going to introduce it to our accounting program," said Dai, who has been sending his faculty members to Australia since 2011.
The college is also in negotiation with technical and continuing education institutes in Australia to invite teachers to lecture, Dai said.
However, the foreign model won't seamlessly fit in with the Chinese market, experts said.
Companies in other countries usually conduct vocational training by signing employees first and then sending them to study at cooperative training schools funded by the government, but this scenario won't happen in China, Yin said.
"Chinese companies are not facing a worker shortage, so they don't bother to invest in vocational training," Yin said.
Shen agreed, calling for more policy support such as lower taxes and subsidies to encourage more enterprises to cooperate with vocational institutes.
"Otherwise, companies will just hire regular workers and replace them with other workers after finding they are incapable of working effectively at the assembly line," Shen said.
Meanwhile, multichannel management has emerged as another headache because students have to take extra tests to apply for skill certificates issued by the Ministry of Civil Affairs after graduating from vocational schools regulated by the Ministry of Education.
With a lack of cross-ministry cooperation, the training students receive in schools sometimes varies a lot and has led to instances of exam cheating or false certificates.
He Libo, a graduate from Chaoyue Vocational School in Changzhi, Shanxi province, said some of his classmates even tried to buy fake certificates before applying for jobs.
Yang Genlai, deputy director of the Ministry of Civil Affairs' vocational skill assessment and guidance center, said a national system in which unified courses and training could be settled in line with the job description, and certificate requirements, should be built as soon as possible.
Luo Wangshu contributed to the story.
sunxiaochen@chinadaily.com.cn