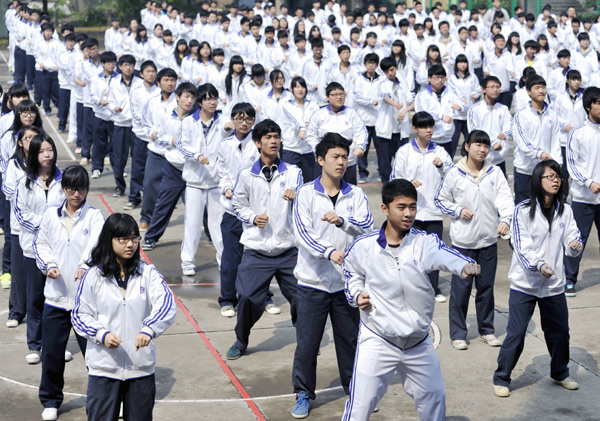 High school students in Wenling, Zhejiang province, practice taekwondo. Zhejiang University is bringing in a new recruitment system this year. Students' high school performance will be part of the admission assessment. Provided to China Daily
Zhejiang University, considered one of the top universities in China, is bringing in a new freshman recruitment system this year, in which the national college entrance exam will no longer be the only assessment.
The "trinity system" will combine candidates' performance in high school evaluation tests, recruitment interviews by the university and the national college entrance exam.
The national college entrance exam, known as gaokao, which used to be the sole assessment for Chinese high school graduates for university enrollment, will account for 60 percent in the trinity system. High school grades will account for 10 percent and interview scores will make up the remaining 30 percent.
The latest move is seen as another major step by the university following its introduction of independent recruitment in 2003, said Lu Guodong, acting dean of the university's undergraduate school.
Lu said the trinity system is designed for students who are truly interested in and show potential for specific majors.
"We have seen too many students who enrolled in college with high scores but lost their goals afterwards. We hope this system can pick some excellent students who already have a clear idea of their future majors and remain dedicated to them," he said.
The university plans to recruit 100 freshmen for 17 majors through the new method. The 17 majors include philosophy, Russian, international politics and port, coastal and technology engineering. On April 19, 282 students across the province attended interviews held by these departments.
Last year, the university recruited 2,300 undergraduate students from Zhejiang province.
Yu Qiongjie from Zhoushan Middle School interviewed for a place in the School of Medicine. The 17-year-old said the interview was not as difficult as she had imagined.
"There were no professional questions. Instead, all the questions were about hot issues that are associated with hospitals or doctors," she said.
Yu said the topic of the group discussion was an old Chinese saying that if one cannot be a good prime minister, he or she should become a good doctor.
"I am quite confident about my performance in the interview," she said. "And I like this form of examination because we are not evaluated by only one exam. Professors will know us in person rather than through mere scores of the national college examination."
Chen Zhi, deputy dean of the university's school of medicine, agreed.
"Unlike other majors, our major has a very specific and clear career goal - being a doctor. Career ethics are essential for doctors and we need to have a full knowledge of our future students and whether they have sympathy for other people and are decisive enough when facing complicated situations," he said.
In addition to Zhejiang University, 34 other universities in Zhejiang province, as well as Shanghai Jiaotong University, will also recruit freshmen via the trinity system.
yanyiqi@chinadaily.com.cn