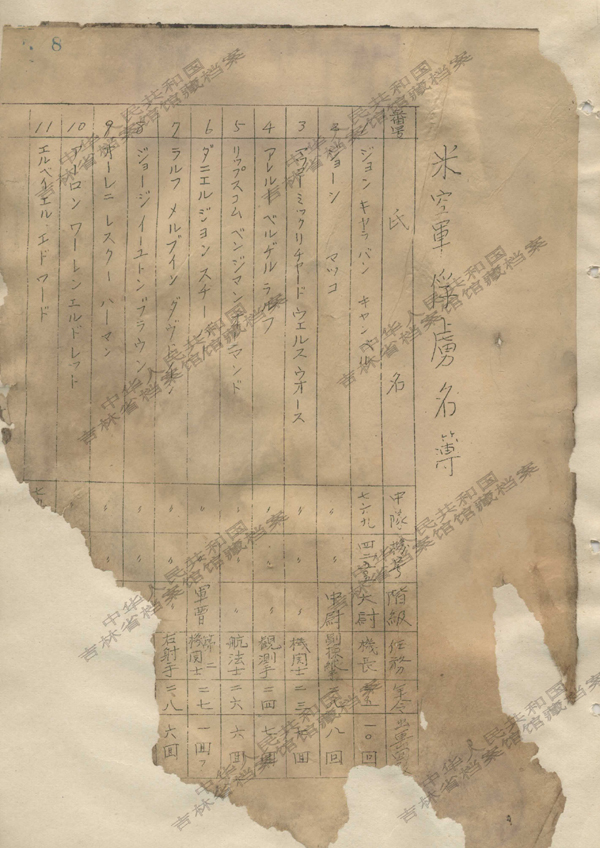 Circular on the Capture of the Crew of Enemy Aircraft by the Head of the Anshan Kempeitai on Dec 27, 1944 (the 19th year of the reign of Mikado Showa) The file records the information on shooting down of US B29 bombers, name list of captured US soldiers, and the interrogations of US POWs. [Photo provided to chinadaily.com.cn]
Special coverage: Files shed new light on Japanese atrocities
Three relevant files are released this time. After the Pacific War broke out, Japan transferred prisoners of war (POWs) of the UK, the US and other countries to Northeast China as laborers. The "Mukden POW Camp" was built for the exclusive purpose of keeping the POWs from British, American and other ally forces captured at the Pacific battle field.
The contents of these archives include:
Information on shooting down of US B29 bombers, name list of captured US soldiers, and the interrogations of US POWs;
Information on the numbers of captives in Mukden Captive Asylum and the differentiated treatment of captives there as revealed in the poems by a UK captive; and
Information on the 500 UK and US POWs as laborers in Japanese company MKK and the work efficiency comparison of UK and US captives, the Japanese and the Chinese laborers.