Tibet will increase spending on cultural relics, and the central government will invest more than 1 billion yuan ($160 million) over five years (2011-15), the regional cultural relics bureau said on Wednesday.
Of the total amount, 439 million yuan has already been provided, and 329 million yuan of that has been invested, the bureau said.
Additionally, 46 key cultural relics sites in the region that are listed in the national protection catalogue will be protected or renovated with funds invested by the central government.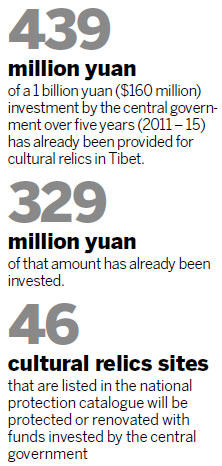 "Six renovation projects, including the Drolma Lhakhang Temple and Ramoche Temple in Lhasa, as well as Champaling Monastery in Tibet's Qamdo prefecture, are already completed," said Tenzin Namgyal, deputy director of the regional cultural relics bureau.
Another 25 renovation projects are underway. The rest of the projects are in the process of bidding, approval or planning, according to the bureau.
Southwest China's Tibet is also mobilizing resources for a survey of cultural relics in the region. Almost 100 people have been trained in Beijing and Lhasa to lead the regionwide survey in the past year.
"The quality of the survey is guaranteed by the fact that a surveying team made up of 40 professionals at all levels within the region is in full swing," said Losang Tashi, an official of the regional cultural relics bureau who is in charge of the survey.
According to the bureau, a new archaeological finding in Tibet showed that a barley seed found in Tibet's Lhaze county dates back 3,200 years.
It is the first cultural relic of its kind found in the upper reaches of the Yarlung Zangbo River, it said.
Tibet is one of the key regions in China with cultural relics protection. By the end of 2013, it had 88 cultural relic institutions, including three museums.
According to the bureau, there are 460 staff members working in the field of cultural relics and 4,277 registered cultural relic sites within the region.
Tibet currently has one UNESCO World Heritage site, which includes the Potala Palace, the Jokhang Temple and the Norbulingka Park.
Contact the writers through palden_nyima@chinadaily.com.cn