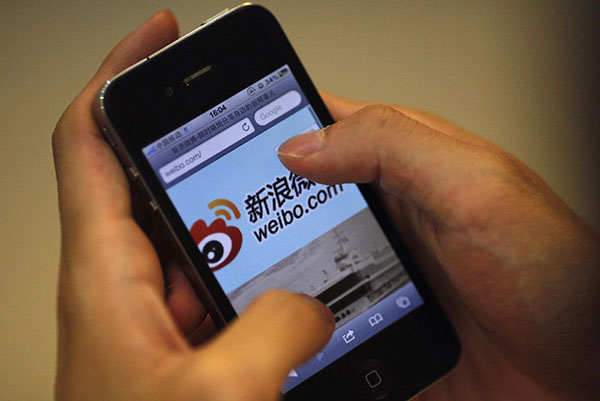 A man visits Sina's Weibo microblogging site using an iPhone in Shanghai in this May 29, 2012 file photo. [Photo/ Agencies]
URUMQI - What would life be like without the Internet?
On July 5, 2009, rock-flinging and knife-wielding thugs looted shops, torched vehicles, killed nearly 200 people and injured another 1,700 in Urumqi, capital of northwest China's Xinjiang Uygur Autonomous Region. Internet access in the region was cut off in the wake of the riot to prevent violent crimes from happening again.
In addition to Internet access and short message service (SMS), the regional government also suspended international direct dialing (IDD). Temporary Internet and communication controls were deemed necessary at the time because public security and intelligence authorities had evidence the violence had been incited and organized via the Internet, SMS and IDD.
According to the regional public security department as well as anti-terrorism experts, the World Uygur Congress (WUC), led by ethnic separatist Rebiya Kadeer, had incited disturbances on the Internet and through other channels prior to the July 5 riot. The WUC was also blamed for the explosion in Kuqa County in southern Xinjiang and the attempted bombing of an airliner in 2008, both of which were organized with the help of the Internet.
Experts said potential extremists in Xinjiang learned through the Internet how to initiate terrorist attacks and make explosives. The Internet and SMS were the essential tools for criminal purposes at the time.
Nur Bekri, the regional chairman, said Internet controls have been a common intervening measure among countries under similar circumstances.
As a result, life for those living in Xinjiang changed abruptly after the July 5 riot.
In the eyes of a local college student surnamed Wang, almost all Internet bars in Urumqi at that time were transformed into game rooms overnight. "Otaku," or young people who surf the web all day, left their homes to hang out with friends in restaurants, drinking beer and feasting on mutton kebabs.
Video shops that had been on the verge of extinction were revived, with customers flooding in to rent movies. Every film, blockbuster or not, became a sell-out in local cinemas.
Wang himself became a frequenter of KTVs, or karaoke bars. "My singing skills were honed during that time," he said.
Some parents became strong advocates of the "No Internet" policy. A middle-aged woman recalled that time as simple and calm. "I did not have to worry about my son's net addiction," she said, adding that her son was more willing to participate in outdoor activities.
But another resident, surnamed Li, recalled that his family had a pretty difficult year. His son was applying to study abroad. All the materials, including academic transcripts, recommendation letters and application forms, needed to be sent via email. Every weekend, the son and his parents drove half a day out of Xinjiang to neighboring Gansu Province to check into a hotel room with Internet access.
According to reports, on Dec. 29, 2009, limited browsing of People.cn and Xinhuanet.com was resumed. News portals of Sina.com and Sohu.com became available to Internet users in Xinjiang on Jan. 10, 2010. Earlier, online services such as banking, securities trading, school enrollment and weather forecasts had already been opened.
A local driver surnamed Zhao recalled that he and his friends at that time had to turn to console games to kill time, with Counter-Strike being the most popular.
According to a newspaper editor surnamed Yang, the strongest impression from that time was that everyone around her was playing the computer game Plants vs. Zombies. Without interaction on popular social media websites such as Renren.com and Weibo.com, the Chinese versions of Facebook and Twitter, most youngsters in Xinjiang sought solace in mini games.
On Feb. 6, 2010, a total of 27 websites, including two online web game sites, were reopened in the region. Another 32 websites and their online services were gradually available to Internet users during March and April. In the meantime, people found they could once again send emails with attachments. The ban on SMS was also lifted.
Against the backdrop of an improved social situation and growing calls from Internet users, full Internet access in Xinjiang was restored on May 14, 2010, over 10 months after the deadly riot. The regional government posted an open letter online, expressing thanks to Internet users for their understanding and support over the past months.
On that day, a public servant, surnamed Zhang, succeeded in reaching the login interface of QQ, a Chinese instant messaging program, but failed to remember his password.
Twenty years ago on April 20, 1994, China achieved a fully functional connection to the Internet, becoming the 77th country to access the web. Over the past two decades, the Internet has brought unlimited opportunities to China's economic and social development.
However, risks posed by a rapidly expanding Internet are also increasingly apparent, prompting Internet users and regulators to be more cautious and responsive.
Those who lived through that period in Xinjiang admitted that they couldn't go back to life without the Internet, but that the Internet is not a "virtual world" where people can make irresponsible speeches or organize illegal activities.
"After all, everyone hopes for a peaceful life, which is closely bound up with a harmonious online environment," a local citizen said.