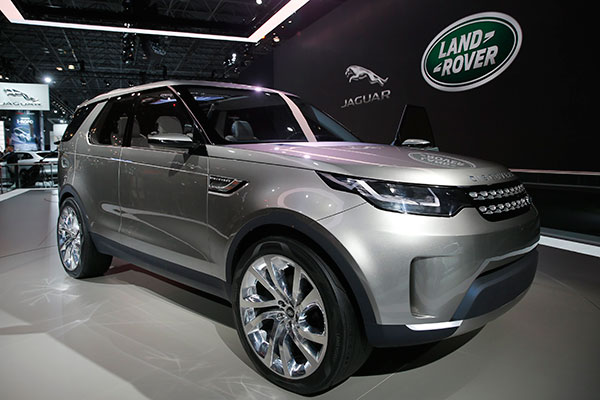 The 2015 Land Rover Discovery Vision Concept is seen on display after it was unveiled at the New York International Auto Show in New York City, April 16, 2014. [Photo / Agencies]
BEIJING - Jaguar Land Rover Automotive Trading (Shanghai) will recall 1,923 vehicles mainly due to problems with their warning lights, China's quality watchdog announced on Thursday.
The recall, from April 17, covers 1,909 imported 2014-edition Range Rover vehicles in the Chinese mainland, which were produced from May 7 to Oct 10, 2013, said the General Administration of Quality Supervision, Inspection and Quarantine.
Indicators and hazard warning lights will not work because the body control module (BCM) software with the vehicles has not been updated to the latest edition, the administration said.
The other cars to be recalled were seven imported Land Rover Freelanders 2 and seven Range Rover Evoques, produced from November 2013 to January 2014, it added.
The 14 vehicles were recalled due to safety risks stemming from possible failure of their stability control systems (SCS) to control the vehicles' lateral movements, the watchdog said.