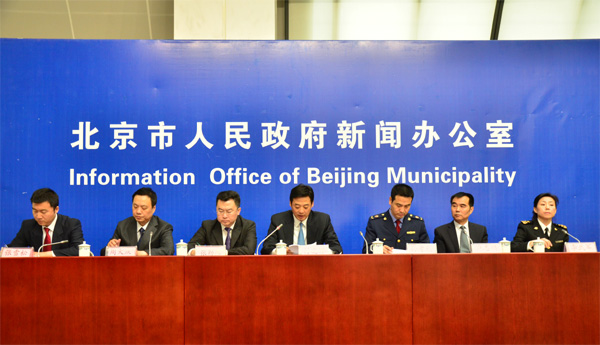 Fu Xiaohui, deputy chief of the Beijing Intellectual Property Office, delivers a speech at a conference on April 10.[Photo by Wang Yu/Chinadaily.com.cn]
The number of patent applications hit a record high in Beijing last year, according to the Beijing Intellectual Property Office.
The number of  patent applications in Beijing last year reached 123,300 a year on year increase of 33.6 percent. And applications concerning inventions involved 54.8 percent of the total number of patent applications.
Fu Xiaohui, deputy chief of the office, said at a press conference on April 10 that the ratio of invention patents for every 10,000 people in Beijing reached 40.4 last year, the highest number in China.
The local authorities also launched campaigns to tackle patent infringements and strengthen cross-regional protection of patents last year. And the IP office investigated 97 cases of counterfeits, an increase of 288 percent, and handled 61 patent infringement disputes.
"A one-year special campaign was implemented to crack down on illegal products and it reinforced penalties for IPR infringement in many markets, especially in the internet market", Sun Kaoli, an official of the Beijing Administration for Industry and Commerce, said at the press conference.
The authorities also established the Zhongguancun Detached Tribunal of Haidian Court which focuses on IP infringement, serving high-tech enterprises and dealing with intellectual property lawsuits in Zhongguancun Science Park.
Beijing has also unveiled its plan concerning digital music copyrights with the aim of protecting IP rights in the digital music market in 2013.