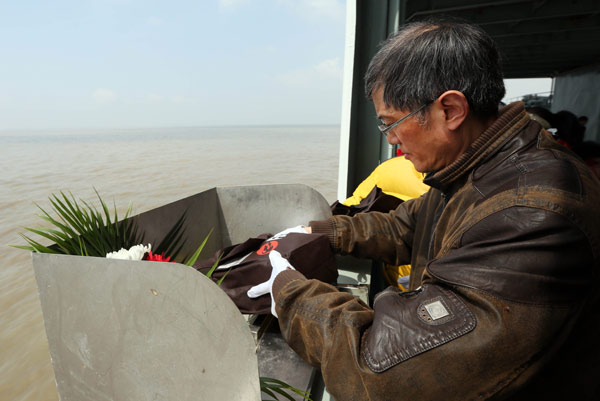 A man prepares to scatter the ashes of his dead relative in the sea off Nantong, Jiangsu province, on Tuesday. [Xu Peiqin/for China Daily]

Family members finding new ways to spread loved ones' ashes
More Chinese families are opting to bury their loved ones at sea because of the recent rise in local government subsidies and services for the practice.
He Qingxun, head of the burial and funeral management division at the Ministry of Civil Affairs, said on Tuesday that more urban residents are choosing sea burials through the encouragement of local governments.
"Many coastal areas and some inland cities with convenient access to the sea have been promoting sea burials among the public," he said.
In cities such as Beijing and Shanghai, governments are now offering free sea burials or cash subsidies to families. In recent years, interest in sea burials has peaked around Tomb Sweeping Day, which falls on April 5 this year, he said.
Su Jian, a retiree from a loan and trust company in Beijing, said the Beijing Bureau of Civil Affairs helped him scatter the ashes of his parents in the Bohai Sea off the coast of northern China.
The 61-year-old said that apart from free transportation, food and beverages for the half-day trip to the Port of Tianjin, the organizers also provided flowers and butterflies as part of the services.
"Flower petals accompanied the release of the butterflies and solemn music - it felt like we hugged our beloved ones who were in heaven," he said.
"Life started from the ocean, so my family believes that returning to the sea is the best way to embrace nature. We think my parents will be able to reach out to anywhere in the world to see my family members in different places," he said, adding that most of his family members have settled down in Taiwan, Germany and the United States.
Beijing began promoting sea burials in 1994. Wang Dedong, director of the Beijing Funeral Service Center, said the number of families opting for the service is expected to double to 2,400 compared with 2013.
"Previously, only a few young people or those in financial difficulties would choose sea burials, but the situation is changing. Now officials, well-educated people and those from other backgrounds are comfortable with it," he said.
The practice accounts for about 2 percent of the annual funerary services sector but he said, "future prospects are very promising".
The Beijing Funeral Service Center, considered the only service provider in the capital authorized to perform sea burials, waives all service fees for Beijing residents but charges 380 yuan ($61) for those without a Beijing hukou, or permanent residency permit.
"The service is not available for foreigners yet," he said.
The city government is also considering building a vessel large enough to carry 500 people and provide more ash scattering tours during the spring and autumn seasons to meet the rising demand, he said.
The scattering of ashes at sea is also becoming more popular in other Chinese cities. In Shanghai, more than 28,000 residents have been buried at sea since the government began promoting it in 1991. According to official statistics, the service has helped to save 8.3 hectares of land.
Local media reported last month that 122 families from Harbin, Heilongjiang province, opted for the service, five times more than in 2013.
Wang Guohua, deputy director of the committee of experts at the China Funeral Association, said a sea burial is an ecologically friendly and economically sound choice in the coastal regions.
"As a populous country, there will be less and less space for the living if we continue the traditional practice of land burials," he said.
"Sea burials help to save considerable land resources."
Xiao Chenglong, director of the Environmental Monitoring Center Station under the Ministry of Civil Affairs, said sea burials can be a more environmentally friendly choice, but also said service providers should avoid contaminating marine industries such as fishing and seaweed farming along the coastal areas.
hedan@chinadaily.com.cn