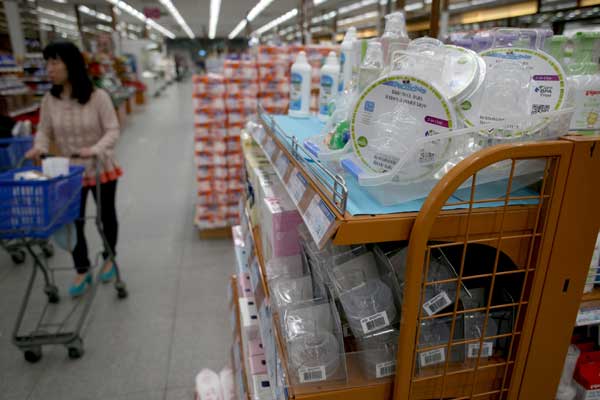 Baby-feeding supplies line shelves at a supermarket in Chaoyang district in Beijing. Producers of bottles and related products for infants have published the country's first industrywide standards, some of which exceed standards in the West. Wang Jing / China Daily
China's producers of baby-feeding bottles have published the country's first industrywide standards for the bottles and their nipples.
The standards even exceed those of the West in some aspects, the producers say.
"The standards combine China's hygiene requirements and safety standards on materials with those of other countries and regions, including Europe and the United States," said Liang Mei, executive vice-president and secretary-general of the China Toy & Juvenile Products Association.
"Our standards emphasize the physical and chemical properties of the feeding bottles and nipples," Liang said.
The standards include detailed requirements relating to the hygienic properties of materials used in the feeding bottles, as well as a product's resistance to falling and its concentration of phthalates - chemicals used in plastics to add flexibility.
Rigorous measuring methods established by the Chinese standards go beyond what is required in Europe, Liang said.
A survey conducted by the toy products association in March 2013 found that the manufacture of feeding bottles and nipples in China was chaotic because of the lack of industry standards.
"Since there were no national standards, some producers followed those of foreign countries, while others followed the national standards on toys," Liang said.
"However, a baby could be harmed by hazardous substances in feeding bottles and nipples through oral contact, so the spotty quality was worrisome."
Chen Ming, director of the Yangzhou Import & Export Toy Inspection Institute, gave an example of graduation errors on the bottles.
"Last year, media reported that a baby girl in Chongqing had abnormal liver function because she had been fed milk in high concentrations caused by an error in the graduation markings on her feeding bottle," Chen said.
Contactthe writer chengyingqi@chinadaily.com.cn