Malicious software for mobile phones has soared in the last year, with almost all of new malware targeting the Android operating system, China's Internet security authority said.
More than 703,000 malware strains on mobile Internet devices were sought in 2013, three times that in 2012, according to the National Computer Network Emergency Response Technical Team and Coordination Center of China.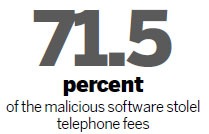 Of the malicious software, 71.5 percent were used to steal telephone fees, while about 99.5 percent were aimed at the Android operating system, said the center.
To alleviate the problem, the center launched eight campaigns to clean out 37,507 malicious applications under requirements made by the Ministry of Industry and Information Technology last year.
Meanwhile, a "white list" of smartphone apps that informs mobile phone users if a particular software is safe or not was published by the Anti-Network Virus Alliance in 2013, the center said.
The list, also a way to urge software companies to be more self-disciplined, will help to regulate the app-downloading market in the country, said the center.
In addition, ensuring the security of apps with payment functions will be a major challenge, as more people prefer to pay on their mobile phones, the center added.
caoyin@chinadaily.com.cn