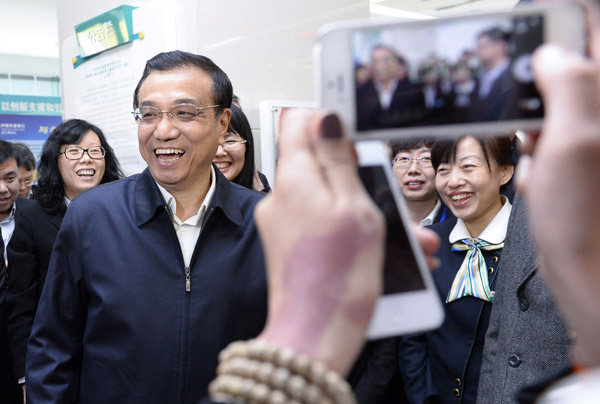 Premier Li Keqiang visits a branch of Agricultural Bank of China in Shenyang, Liaoning province, on Wednesday to see how bank loans support local agricultural development and the industrial bases' transformation. LIU ZHEN / CHINA NEWS SERVICE
Li says private capital can provide job opportunities, sector reforms
Premier Li Keqiang encouraged private capital to participate in financial innovation and support employment while visiting Liaoning province on Wednesday.
"Financial innovation is one of the driving forces for people to start their own businesses and provide job opportunities, and people's demand for financial services can push forward reforms in the sector," the premier said after he visited a private small-credit company, Hanhua Financial Holding Co and the Agricultural Bank of China's branch in Shenyang.
Li's remarks are in line with the policy stance expressed by the 2014 Government Work Report which was released three weeks ago at the session of the 12th National People's Congress.
The premier set as one of the government's main tasks this year the development of an inclusive financial system and lower financial costs for small-scale enterprises, as well as the acceleration of financial innovation. The government annual report specifically emphasized the promotion of healthy development of Internet finance.
Zhang Guoxiang, chairman of Hanhua Financial Holding Co, said the nation's regulators provide differentiated financial leverage ratios for private financial institutions in order to reduce capital costs and better support development of the real economy.
Zhang also expressed his desire to set a private bank and said he was encouraged by the premier.
Shang Fulin, chairman of the China Banking Regulatory Commission, said on Monday that differentiated regulation measures will be taken between private banks and the big State-owned ones, in order to steadily improve the nation's private bank pilot programs.
"To introduce private capital into the financial sector will enhance market vitality," he said.
"The financial innovation will better serve small and micro businesses and improve their corporate governance systems," Shang said.
He said the supervision will focus on private banks' sustainable fund injection capability and risk tolerance to prevent potential crisis.
Liu Ligang, chief economist in China at the ANZ Bank, said that apart from the benefits that the financial market will get from private capital participation and innovation, close attention should be paid to regulation improvement to avoid quick expansion of the "shadow banking system" when the leverage ratio rises.
On Wednesday, Li also visited Shenyang Yuanda Science and Technology Park and urged companies to give research and development staff corporate shares in a bid to boost innovation.
The premier said high-tech research staff deserve better material rewards, because the country is eager to unleash potential innovation capability.
Enterprises are obliged to transform intellectual properties from the minds of researchers into tangible assets in real society, he said.
"Talent remains the key factor during business expansion, but their innovation capability can only be motivated and their vision of life realized after enterprises have reformed their incentive system," Li said
Contact the writer at zhaoyinan@chinadaily.com.cn