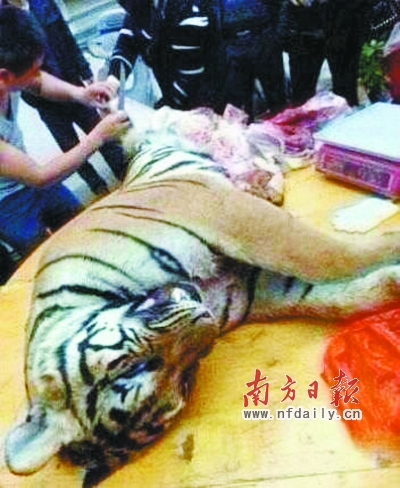 A man cuts a piece of a tiger for sale in Leizhou in this undated photo.[Photo/Nanfang Daily]
Two leaders of a criminal ring were detained on suspicion of involvement in illegally hunting and slaughtering a tiger in Leizhou city in South China's Guangdong province, Nanfang Daily reported on Wednesday.
A total of ten tigers have been killed in the city in recent years, according to the police. It is an open secret in Leizhou that when people in political or business circles gather together, they sometimes hire someone to slaughter a tiger - simply as a form of entertainment and to show off their wealth.
"A friend once telephoned me to witness the killing of a tiger, but I was out of town on business and missed the opportunity" said a man surnamed Chen, who is a government official. He added that he regrets that he did not get the chance to see this "live show". 

Most tigers transported secretly to Leizhou are alive, but anesthetized.
The buyers hire an experienced butcher to slaughter the animal, and a butcher can reportedly earn as much as 1,000 yuan ($161) to kill one tiger – with the price increasing if there are any complications.
Police said a butcher with the surname Huang was hired to slaughter more than 10 tigers.
Local residents said tiger bones are worth 3,500 yuan a kilogram, and tiger meat and tiger-bone liquor sell for 250 a kilo - and there are apparently many eager buyers.
The ringleaders seek adult tigers whose weight range from 150 to 200 kilograms, at a cost of 200,000 to 300,000 per animal. They then sell them at a higher price, with a profit of more than 100,000 yuan.