When Drolma Yangzom danced with a group of fellow Tibetan girls on a small playground in Yunnan province four years ago, she could barely speak Mandarin and knew nothing about tennis.
Now the 12-year-old speaks fluent English and practices tennis for two hours a day with foreign trainers, while taking tailor-made academic courses at state-of-the-art facilities in Beijing.
Thanks to the establishment of the New Champion Academy, more than 100 students like Drolma Yangzom have been able to develop their sporting talent without giving up their academic pursuits.
It is a harmonious balance that Yang Xi, founder of the school, had long dreamed of but could not realize during her career as a world-class volleyball player.
In China's State-run sports development system, athletes usually forgo formal education at an early age and then often struggle to find jobs after retirement from their sporting endeavors. In contrast, students in regular schools often suffer health problems, such as obesity and myopia, due to limited exercise on campus.
New Champion Academy aims to produce champions strong in body and mind.
"We don't want to see more health issues among youngsters, so we need to change at the grassroots," said Yang, who helped China win five consecutive world titles in the 1980s.
"We try to cultivate a new breed of students, ones who can do well in exams while winning championships."
Western methods
Covering 56,000 square meters, New Champion Academy has 10 outdoor tennis courts, an indoor gym and a practice pool at the National Aquatics Center. It opened in September, and highlights physical education's role in youth development and uses Western teaching methods.
The timetable includes a mandatory daily, two-hour physical education class based on the SPARK - Sports, Play and Active Recreation for Kids - program, which was developed in the United States and combines English, math and science, as well as academic courses required by the national curriculum from kindergarten to the ninth grade.
"Sticking to the outline approved by the Ministry of Education will ensure our programs cater to the majority," Principal Xu Erhui said. "We're different from other private schools or international schools."
Students showing athletic talent will be selected for dedicated tennis or swimming programs. This entails two extra hours with foreign coaches in the afternoon with academic work done later in the day.
Most traditional primary and high schools barely ensure any real physical education.
New Champion Academy has hired an international crew, including eight foreign teachers and coaches, to provide advanced Western teaching techniques, including discussions and academic debates. Students will be exposed to a full English-language environment to hone their speaking skills.
Drolma Yangzom, who served as a translator for foreign guests during tennis star Li Na's visit in July, 2012, said Western methods turned her from a shy girl into a confident tennis player.
"We learn English in the class and foreign coaches encourage us to use it by talking with them on court," she said. "It's much better than just having classes and only test it by taking exams."
Nyima Drolma, 13, another Tibetan girl among the 10-student ethnic group selected from rural areas in Yunnan to study at the academy with full funding, said the school provided her more possibilities in life.
"Coming to the school, I have a chance to be a professional tennis player, while I can also take another job with the academic knowledge I learned here if I am not going to play tennis eventually," she said. In 2012, she won a national under-12s title.
Student numbers
Parents also praised the creative program, citing the emphasis on physical and academic performance.
"We chose the academy because it provides an ideal model to nurse all-around talent," said Cheng Liqiu, who has a daughter in first grade.
"Growing up healthy is the priority for our child, and this school seems to have worked out a way to guarantee exercise while offering academic courses."
However, the school still struggles to enroll students to operate sustainably.
The academy has recruited more than 100 students for its kindergarten and primary school since September, and it expects to lure more next year.
According to school executive Pang Qinghui, the academy charges 70,000 yuan ($11,200) a year for primary education, which includes insurance, catering, uniform and accommodation, and 60,000 yuan for its kindergarten.
"But the tuition is too high for most families," Cheng said. "What the school offers is good but still not good enough to match the price."
Whether the school can maintain its physical-academic balance with more academic pressure coming in higher grades also raised concern among parents.
Samual Ahadu, a PE and English teacher who has spent more than 10 years working with international schools in Beijing, said the academy will make the necessary adjustment on its program.
"We'll work on our schedule," he said. "We're teaching the Chinese national curriculum so we have to be sensitive to the kids' academic schedule.
"We'll add more time on exam-related courses, but that doesn't mean we will emphasize one over another," he added.
sunxiaochen@chinadaily.com.cn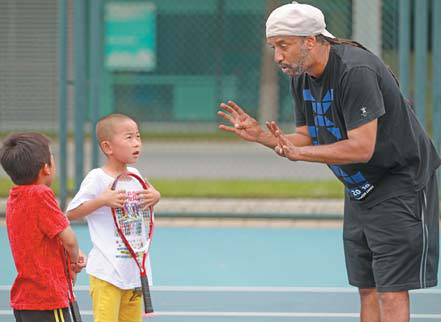 Samual Ahadu, a PE and English teacher, instructs students during a tennis training session at the New Champion Academy in Beijing. Cui Meng / for China Daily
(China Daily 03/24/2014 page6)