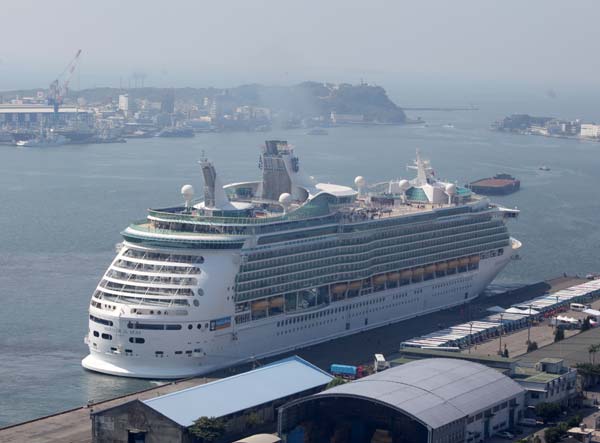 Asia's biggest cruise liner, which departed from Hong Kong, arrived at Kaohsiung Harbor in October. More than 3,000 passengers went ashore to look around. Provided to China Daily
Hong Kong's cruise sector is expected to ride a wave of more tourists with a surge from the Chinese mainland, thanks to advanced onboard amenities and new destinations.
Jett Bent, cruise projects director at the new Kai Tak Cruise Terminal, said he is confident that more and more tourists will want to enjoy the "cruise experience".
"Cruise passengers are generally premium leisure travelers, and we expect that they will spend more, on average, than other visitors," he said.
Bent said the terminal had nine ship arrivals in 2013 when it opened and 26 are scheduled for 2014. So far, 22 have been scheduled for 2015, "and more bookings are expected in the coming few months".
Bent is also cruise projects director at Worldwide Flight Services, a global airport services organization that has operated in Hong Kong since 1998.
Mariner of the Seas, one of the five Voyager-class cruise ships from Royal Caribbean International, with an onboard capacity of 3,807 people, berthed at Kai Tak on June 13. It was the first liner at the terminal, built in Kowloon Bay at the end of the former Kai Tak Airport's runway.
Yang Jinsong, a China Tourism Academy professor who specializes in international tourism, said: "Cruise liners operating from Hong Kong offer a variety of onboard high-quality amenities that appeal to a range of age groups and are conducive to multigenerational travel".
As the first place in the region to homeport cruises, Hong Kong has a definite competitive edge, he said.
According to the Hong Kong Tourism Board, the average per capita spending of homeport cruises is 3,397 yuan ($555) for an average stay of 2.6 days.
Transit cruise passengers spend on average 1,530 yuan for a one-night stay.
Yang estimated that Hong Kong's food and retail sectors will also get a boost from more tourist arrivals.
"Tourists are bound to visit nearby restaurants after disembarking, and many tourists would like to go on shopping sprees during their short stay in the area," he said.
"As more advanced infrastructure projects tie in with the terminal, it will be much easier for tourists to travel around the area and spend more money in the area."
Central government policy has also allowed new itineraries for tourists from the mainland out of Hong Kong toward stops in Taiwan, Japan and South Korea.
Yang said tourists from southwestern China are more interested in cruises than tourists from other parts of the country.
Considering the cruise sector in Asia is still in its initial phase of development, the potential is "incredible", he said.
Yang said the Asian cruise market is only 15 percent of North America's.
"As the local cruise market is still in its infancy, many local travelers prefer to try short cruises initially," said Bent.
"But we believe that as people experience and enjoy it, they will take longer trips."