Energy giant accelerates search for foreign supply
China National Offshore Oil Corp (CNOOC), the country's largest offshore oil and gas developer, has become the first Chinese firm licensed to look for oil in the Arctic, a landmark step for overseas energy exploration for the world's second-largest economy.
CNOOC has partnered with Iceland's Eykon Energy in an application for a license to explore oil and gas resources in Arctic waters since last June.
On Jan 22, Iceland's national energy authority, Orkustofnun, granted the new offshore license to the Chinese company as an operator with a 60 percent share, to Eykon Energy with a 15 percent share and to Petoro Iceland AS with a 25 percent share, the company told China Daily on Thursday.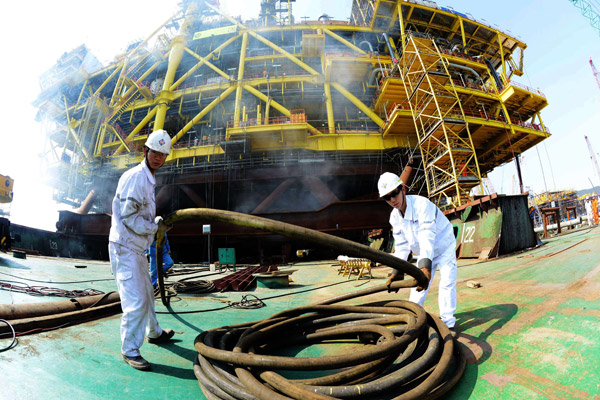 China National Offshore Oil Corp workers move cables on an offshore oil drilling platform. In January, Iceland's energy authority granted CNOOC and its partners a new exploration license. YU FANGPING / FOR CHINA DAILY
As global fuel consumption increases, international oil and gas players are actively seeking large-scale untapped resources to replace the North Sea oil production region.
Based on CNOOC's expertise in deepwater oil exploration, it has been accelerating steps in foreign offshore oil and gas businesses, including the largest-ever acquisition of Nexen Inc in the energy sector.
"The permission that CNOOC got from the Iceland government proves the Chinese energy companies' upstream exploration competence," said Guo Haitao, associate dean of the School of Business Ad
mini
stration with the China University of Petrol
eu
m.
He said the project is still in its initial stages and will not affect China's oil and gas supply in the short run, but it will raise the country's energy exploration technology level as well as ensure supply through diversified resources in the long term.
China imported 280 million tons of crude in 2013, up 4 percent year-on-year, according to the customs office.
As the country's oil dependency on foreign supply continued to increase — reaching 58.1 percent in 2013 — China's domestic oil output remained flat at about 208 million tons.
CNOOC announced in late January that the company's output in 2013 was 412 million barrels of oil equivalent, of which 69 million barrels came from its acquisition of Nexen Inc.
It set its 2014 output target at 422 million to 435 million barrels with a year-on-year growth of 2.43 to 5.58 percent.
But as the first Chinese company that can tap oil and gas exploration in the Arctic, risks exist along with opportunities.
"CNOOC will be the major operator of the project, and risks are high," said Guo. The Arctic region has rich oil and gas resources with a proven reserve of 400 billion barrels of oil equivalent, according to the latest annual report from CNPC Economics and Technology Research Institute. "
The high operation costs and long payback period are major problems for investors in the region," said the report.
An industrial insider with CNOOC, who declined to be named, told China Daily that the extraction equipment in the Arctic region is different from the ones used for producing crude in deep water because of extremely low temperatures and Arctic ice.
He said the cost of the equipment fit for producing crude oil in the Arctic region will also be much higher.
In addition to the cost, environment concerns also are a problem for explorers.
In September, activists from the non-governmental organization Greenpeace scaled the Prirazlomnaya oil platform in Arctic waters, calling the company's operations a threat to the environment.
Located in the Barents Sea, Prirazlomnaya is the first Arctic offshore oil platform developed by Russia. It reportedly plans to drill 40 wells from the platform. The project started production late last year with an initial daily output of 130,000 barrels.
It took 20 years to start production since it got the exploration permission in 1993, which has shown the difficulties of operation in the Arctic region.
Royal Dutch Shell, another international oil giant, had huge investment plans in the Arctic waters off Alaska but decided to abandon drilling in late January because of a US federal court ruling.
It was the second year Shell has postponed drilling in the Chukchi Sea, where it began exploratory drilling in 2012.
The company's operation also caused concerns among environmentalists and native Alaskan communities, which took the company to court to try to stop it. Energy The permission that CNOOC has got from the Iceland government has proved the Chinese energy companies' upstream exploration competence."