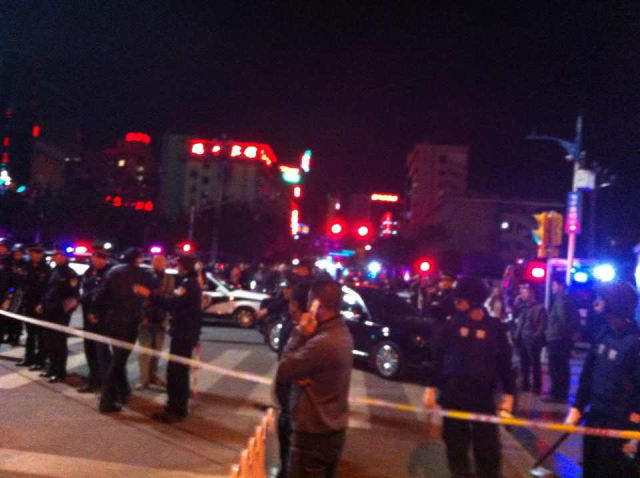 Police cordon off a site of an attack at a railway station in Kunming, Southwest China's Yunnan province, March 1, 2014. [Photo by Xue Dan/chinadaily.com.cn]
Twenty-eight civilians were confirmed dead and 113 others injured (as of press time) in a railway station attack in southwest Chinese city of Kunming, authorities said.
It was an organized, premeditated violent terrorist attack, according to the authorities.
The authorities also said five suspects were shot dead but their identities have not been confirmed yet.
President Xi Jinping has urged the law enforcement to investigate and solve the case and punish the terrorists in accordance with the law.
A group of knife-wielding people attacked the Kunming Railway Station in the capital of southwest China's Yunnan Province at around 9 p.m., causing death and injuries, said the city police.
A Xinhua reporter on the spot said several suspects have been controlled, while police are still questioning people in the station.
The reporter said that firefighters and medical workers have arrived on the scene, and injured people have been rushed to hospital for emergency treatment. The arterial road of the station has been cordoned off.
A doctor with the Kunming No.1 People's Hospital told Xinhua over the phone that medical workers of the hospital are busy treating the injured, adding that they are still unsure of the exact number of casualties.
According to Xinhua reporters at the hospital, a dozen of bodies were seen at the hospital. As of 0:00 a.m. Sunday, more than 60 victims in the attack have been sent to the hospital, emergency registration records showed.
Chen Guizhen, a 50-year-old woman, told Xinhua at the hospital that her husband Xiong Wenguang, 59, was killed in the attack.
"Why are the terrorists so cruel? " moaned Chen, holding her husband's ID card in blood with her trembling hands.
The couple, both farmers from the Chuxiong Yi Autonomous Prefecture, bought Sunday tickets to the eastern province of Zhejiang for their new urban jobs and planned to stay over the waiting room.
"I found his ID card on his body. I can't believe he just left me," she cried.
Yang Haifei, a local resident of Yunnan, told Xinhua that he was attacked and sustained injuries on his chest and back.
Yang said he was buying a ticket when he saw a group of people rush into the station, most of them in black, and start attacking others.
"I saw a person come straight at me with a long knife and I ran away with everyone," he said, adding that people who were slower were severely injured.
"They just fell on the ground," he said.
At the guard pavilion in front of the station, three victims were crying. One of them named Yang Ziqing told Xinhua that they were waiting in the station square for a 10:50 p.m. train to Shanghai, but had to escape when a knife-wielding man suddenly came at them.
"My two town-fellows' husbands have been rushed to hospital, but I can't find my husband, and his phone went unanswered," Yang sobbed.
Pictures on Sina Weibo, the Chinese equivalent of Twitter, show local police patrolling the station. Bodies in blood can be spotted on the ground in the pictures. Doctors were seen transporting injured people to a local hospital.
A Weibo user screen-named "HuangY3xin-Dione," who was dining in a restaurant near the railway station, said that she was "scared to death," adding that she saw a group of men in black with two long knives chasing people.
According to Kunming railway bureau, train departures have not been affected.
The incident has fueled massive anger among the people across China, with netizens severely condemning the violent attacks on social websites like Sina Weibo and WeChat, a popular instant messaging service.
The attacks at the station might have created blood and violence, but it has also awakened a strong sense of justice and strength among us. We strongly condemn violence, and we call on people to stop circulating bloody pictures, read a message on WeChat.
On Sina Weibo, netizens are spreading the word of stopping the circulation of bloody photos on the Internet.
"Stop publishing bloody photos, because that's just what the thugs want," a Weibo user with the screenname "Fuzhaolouzhu" wrote on her Weibo account.
Another Weibo user screennamed "CakeryCupcakes" said she hopes mainstream media could provide immediate and transparent report.
"We should not forward unconfirmed information and bloody pictures to avoid more panics," wrote the user.
The security management bureau under the Ministry of Public Security called the incident a "severe violent crime" at its official Sina Weibo account.
Now, the situation is gradually going stable, and the injured have been treated, while police are investigating the case, it said.
"No matter what motives the murderers hold, the killing of innocence people are against kindness and justice. The police will crack down the crimes in accordance with the law without any tolerance. May the dead rest in peace," it read.
The Kunming Railway Station, located in the southeastern area of the city, is one of the largest railway stations in southwest China. It was put into operation in 1958.
The latest violent terrorist attack that caused most civilian deaths happened in June last year in Lukqun Township of Turpan Prefecture in farwest China's Xinjiang Uygur Autonomous Region.
A total of 24 people were killed and 23 others were injured in the attack.
On October 28 last year, a jeep crashed at downtown Beijing's Tian'anman Square, causing five deaths and 40 injuries. Police found gasoline, two knives and steel sticks as well as a flag with extremist religious content in the jeep.
The police later identified the deadly crash as a violent terrorist attack.