The Ministry of Education said it will strive to provide more resources to preschools over the next three years to meet increasing demand, as the new second-child policy in some provinces and cities in China could result in added pressure on preschool education.
The second-child policy, which allows couples to have a second child if one spouse is an only child, is being implemented in seven provinces and municipalities since the beginning of this year, including in the cities of Beijing, Shanghai and Tianjin as well as Zhejiang province. More provinces are expected to follow suit this year.
"Second children born after the implementation of the policy will be enrolled in preschools three years from now," Zheng Fuzhi, the director of the ministry's basic education department said at a news conference on Wednesday. "This may widen the gap between the supply of resources and the number of preschoolers - although we don't know the specific number now."
"Expanding preschool resources has become our first priority for the next three years," he said.
According to Zheng, thanks to the three-year action plan for preschool education (2010-13), Chinese preschools have made progress.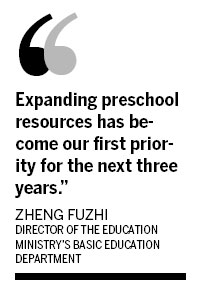 The action plan was initially designed to prevent a shortage of preschools. A series of actions were taken by the Ministry of Education, together with other ministries and commissions like the Ministry of Finance and the National Development and Reform Commission, to build more public preschools, recruit teachers and improve teaching quality.
From 2011 to 2013, the central government paid 50 billion yuan ($8.16 billion), and local governments invested 160 billion yuan on preschool education.
By the end of 2013, the total number of preschools across the country had reached 198,600, a 32 percent jump from 2010. The schools employed a total of 2.83 million teachers, 980,000 more than in 2010.
Meanwhile, 38.95 million children were enrolled in preschools, 9.18 million more than in 2010. Of preschool-age children, 67.5 percent were enrolled, 10.9 percentage points up from 2010.
After the first three-year action plan for preschool education, the shortage of schools was eased, and it became easier for children to be enrolled, Zheng said.
To further improve the enrollment rate and improve teaching quality, the Ministry of Education decided to implement a second three-year action plan (2014 to 2016).
Unlike the first three years, the second span may experience new challenges brought on by the second-child policy, as well as by the ongoing urbanization of the country and increasing mobility of the population. Those factors could aggravate shortages of preschools and create some new problems, Zheng said.
"To solve these problems, first of all we should keep increasing the overall volume of preschool education resources," Zheng said. "At the same time, we will take different measures in accordance with the situations in different regions. For example, in densely populated cities, we will provide more preschool education resources, while in regions with small populations, we will make the location of the preschools more reasonable to cover more children."
At least one expert held a different view.
Chu Zhaohui, a senior researcher with the National Institute of Education Sciences, said new situations like the second-child policy, urbanization and migration may have some impact on preschool education resources but perhaps not as much as imagined.
"As the number of preschool teachers increases rapidly, many who are not qualified may be employed, and this may pose a threat to the quality of preschool education," he said.
zhaoxinying@chinadaily.com.cn