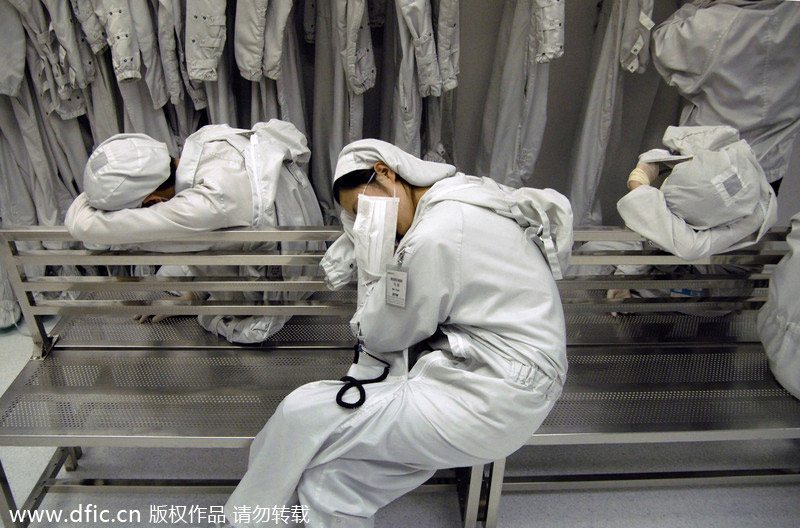 Hard working

A woman takes a nap on the bench during a break at a plant in Chang'an town, Dongguan city, South China's Guangdong province, 20 April 2011. [Photo/icpress/cn]
Recent media exposure of the sex trade in Dongguan has left many young unmarried women in Dongguan very worried, because rumors on the Internet give people the impression that young women in Dongguan may be working as prostitutes.
These women are calling for people to stop defaming the city they work in.
"We are still single. Such rumors may cause us big problems in dating," said a Sina Weibo user named "sleeping grass".
A 22-year-old woman working at a star-rated hotel in Dongguan said she became angry after many of her former classmates suggested that she worked as a prostitute in Dongguan because she earns good money and she has a nice workplace.
Her mother even called her to demand that she quit her job, as she had another job lined up for her. Under all the pressure, she is now ready to resign from the hotel.
Another woman, who works at another company, felt weird as she was frequently asked whether she works in Dongguan.
"What is wrong with working in Dongguan?" she asked a reporter from Yangcheng Evening Daily in Guangzhou city.
The pretty single woman from Central China's Hunan province is the chief financial officer at a factory in Dongguan, and makes more than 8,000 yuan a month.
After Spring Festival, the hotel worker was set up on a blind date and was scheduled to meet the man next month, but the man suddenly canceled after news of the crackdown spread across the country.
"Not all successful women count on their appearance," she said.
Factory directors also felt the backlash of the crackdown.
A director at a foreign-invested factory is worried about the loyalty of his female workers, as he found many of them are concerned about their marriage prospects, especially those who have been promoted after years of experience and now make good money.
A thread initiated to correct the public's biased views on Dongguan got over 18,000 clicks and over 100 replies on Tianya.cn, one of China's biggest online interactive communities.
The thread reads, "Hi Dongguan, don't be afraid of being mocked. Please tell him because of our hard work, we produce 20 percent of the world's electric products, because of our belief, we destroyed all opium in China by burning. (in the 19th century) And because of inclusion, we attract tens of thousands of people to come here from other places."
And Web users defended the city, saying it is not fair to ignore the city's good sides by labeling it a "Sex Capital".