Zero tolerance toward traffickers leads to more than 400 arrests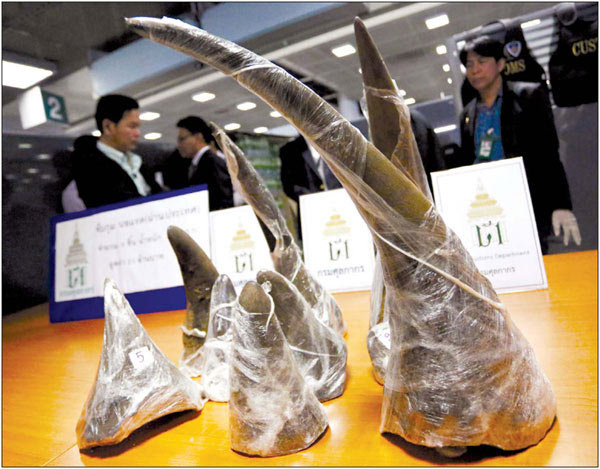 Rhino horns confiscated by Thai customs authorities are shown during a news conference at Suvarnabhumi International Airport in Bangkok in January. Apichart Weerawong / for China Daily
A multinational operation - in which China played a leading role - resulted in the arrests of hundreds of wildlife poachers and was of global significance for the intelligence it gathered, experts said.
The operation, Cobra II, involved 28 countries from Asia, Africa and North America and sent a powerful message to poachers and smugglers, a US official said.

More than 400 suspects were arrested and tons of products were seized in the month-long operation that sent poachers a clear signal of China's zero-tolerance policy toward traffickers, said Wan Ziming, director of the Law Enforcement Department of the China Endangered Species Import and Export Management Office.
The operation, from Dec 30 to Jan 26, was launched a year after the first Cobra operation, which was initiated by China.
"Six more countries were involved this year, resulting in even greater cooperation," Wan said.
"The operation turned words into action by implementing commitments our governments made in various summits, conferences and conventions," he said.
"We brought all the stakeholders together to create the best practices, aid cooperation, coordinate the interception of wildlife traffickers and conduct follow-up investigations."
The operation was organized by China, the United States, South Africa, the Lusaka Agreement Task Force, ASEAN Wildlife Enforcement Network, and South Asia Wildlife Enforcement Network.
The global crackdown was supported by the Convention on International Trade in Endangered Species of Wild Fauna and Flora (CITES), the World Customs Organization and Interpol.
China's authorities, including forestry, customs, police, judiciary and quarantine departments, placed more than 100,000 personnel at the operation's disposal. They helped uncover more than 200 cases involving over 250 suspects, accounting for more than half of the total cases.
Cobra II won praise from the international community.
"The success of Cobra II came from the coordination, cooperation and intelligence generated to combat wildlife crime syndicates," LATF director Bonaventure Ebayi said.
"As much as the seizures of contraband were welcomed, the real impact was in the intelligence gained, networks developed and the number of investigations, arrests and prosecution of the suspects behind these illegal shipments."
Edward Grace, deputy chief of the US Fish and Wildlife Service's office of Law Enforcement, said the operation sent a powerful message to poachers and smugglers across the globe that the world's endangered wildlife and plant resources are not theirs for the taking.
"Only as global partners can we protect the world's wildlife," he said.
Senior superintendent Uttam Kumar Karkee of the Nepal police said that this operation has proved itself an excellent model for fighting transnational crime.
Worth around $10 billion a year, the illicit trade in wildlife products ranks alongside arms, drugs and human trafficking as one of the most highly profitable crimes.
And it is growing quickly, according to Wan.
Poachers are scouring the Amazon and Congo regions for animal hides or potions for wealthy clients.
Every year, about $1 billion worth of python skins are smuggled from Southeast Asia into Europe to meet the needs of the luxury goods industry.
At least 5 percent of the wild rhinos and elephants in Africa are killed for their ivory every year, usually to meet demand in Asia. On top of this, wild animals are often smuggled out of their habits to be kept as pets.
"Wildlife trafficking is now more organized, more lucrative, more widespread and more dangerous than ever before. And we need strong partnerships to fight the global problem of illicit wildlife trafficking," Wan said.
"Trafficking relies on porous borders and strong networks of organized crime, and it is only by acting in concert that we will defeat it," he added.
China has attached great importance to the protection of endangered species since it joined CITES in 1981, with the world's largest CITES Management Authority and the National Interagency CITES Enforcement Collaborative Group, formed in 2011, to support enforcement.
CITES awarded the collaborative group the Secretary-General's Certificate of Commendation in 2012 for two successful national wildlife law enforcement operations that resulted in significant seizures and arrests.
Zhang Jianlong, director of the collaborative group and deputy director of the State Forestry Administration, said China will continue to cooperate with other countries to strengthen wildlife protection and fully fulfill its international obligations.
yangyao@chinadaily.com.cn