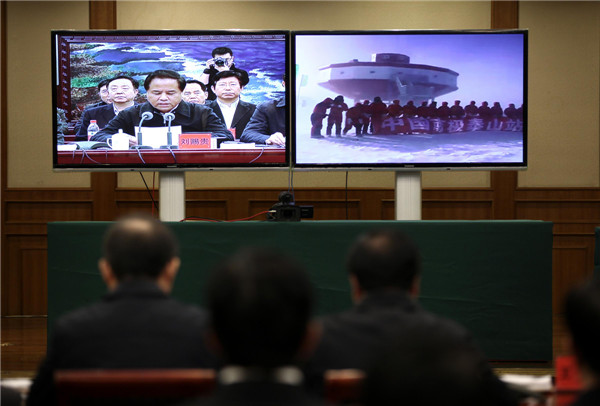 The State Oceanic Administration in Beijing announced the opening of its new Antarctic research base, Taishan Station, during a satellite video link on Feb 8, 2014. [Photo/Xinhua]
BEIJING
- China has opened a fourth Antarctic research base, the State Oceanic Administration (SOA) said here on Saturday.
Taishan station is 76 degrees 58 minutes east longitude and 73 degrees 51 minutes south latitude on the East Antarctic inland ice sheet at an altitude of 2,621 meters.
The site is between Zhongshan and Kunlun stations, and the yearly average temperature there is about minus 36.6 degrees Celsius.
The station measures 1,000 square meters with its main building 410 square meters.
It can accommodate up to 20 people during the Antarctic summer and is equipped with a runway for fixed-wing aircraft, specially designed for snow and ice.
The station's facilities can be used for scientific observation, accommodation, power generation, storage, machinery maintenance, communication and emergency shelter.
It also has oil storage installations and equipment to support a 400-tonne inland transportation vehicle team.
According to the SOA, the station was built by the team of China's 30th Antarctic scientific expedition mission. It took a 28-strong crew 53 days to build the station.
China's first Antarctic expedition in 1984 was the first step towards establishing the four research centers on the continent -- Great Wall, Zhongshan, Kunlun and, now, Taishan. The first station, Great Wall, opened in 1985.
Taishan station is expected to be in service for the next 15 years.
Don't miss: