The maximum subsidy for a new energy vehicle in Beijing will be 108,000 yuan ($17,840), according to a regulation released on Tuesday by transport authority.
The capital's transport commission said individual buyers of new energy vehicles can receive subsidies from the government, with amounts ranging from 63,000 yuan to 108,000 yuan for each car.
The number of car licenses made available for new energy vehicles in 2014 is 20,000, with 10,000 for individual purchasers and the other 10,000 for companies, government institutions and other groups.
The city will hold vehicle license plate lotteries every two months this year, according to the transport authority.
As of Jan 8, it received applications from 731 individuals and 1,040 from companies, government institutions and other groups to buy new energy vehicles.
According to city regulations, if the application number is less than the car license plate quota number in each lottery, potential buyers can purchase cars directly.
Beijing introduced its vehicle license plate lottery system in 2011 to curb the growth rate of new automobiles.
In November, Beijing announced that from 2014 through 2017, the number of new cars available to registered drivers in the capital would be reduced from 240,000 a year to 150,000.
The first lottery for car license plates will take place on Feb 26 and the city will also release a list of new energy vehicle types for potential buyers in February.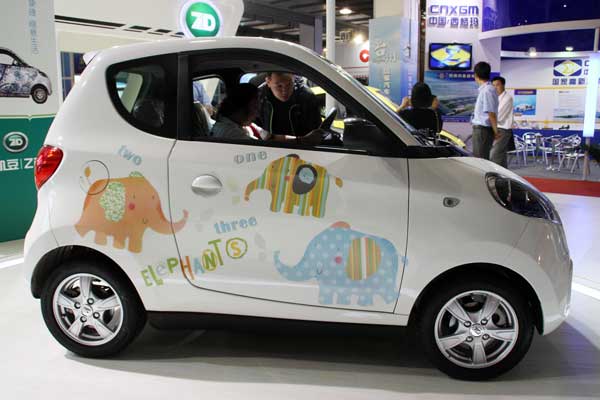 Customers examine an electric car at an exhibition in Beijing on Saturday. The government plans to have at least 10,000 new-energy vehicles sold between 2013 and 2015 in each of the country's megacities, according to the guideline for the electric vehicle industry.WU CHANGQING / FOR CHINA DAILY