HONG KONG - Hong Kong's food and health authority on Monday evening confirmed a H7N9 bird flu case was found at a local agricultural products wholesale market and announced it will cull about 20,000 poultry in the market Tuesday morning.
Ko Wing-man, secretary of Food and Health Bureau, announced that a live chicken sample taken among fowl imported from Guangdong Province of the Chinese mainland was tested to be positive for the deadly virus. The government has decided to suspend poultry import from the mainland and live poultry sales on local markets for at least three weeks.
The wholesale market was also identified as an epidemic spot where Hong Kong's disease control departments will give a thorough disinfection and cleaning during the suspension of sale.
It is very likely that Hong Kong residents could not buy any live poultry during the traditional Chinese Lunar New Year holidays which start on Friday, since the government also bans local chicken farms from selling live poultry within three weeks.
The secretary said Hong Kong government has informed the mainland's authorities and required mainland's inspection and quarantine agencies to investigate the source of the exported poultry that was found carrying the virus.
Monitoring of the mainland chicken farms will continue after the three weeks of suspension of live poultry trading, and live fowl export to Hong Kong would not be resumed unless both the mainland and Hong Kong agree on the investigation results, the secretary told a press conference, adding that it had been the first case of H7N9 bird flu confirmed in imported live poultry in Hong Kong since the epidemic broke out on the mainland last March.
According to Ko, Hong Kong's disease control departments are looking for the deliver of the infected poultry who needs to be taken into disease control center for medical examination and observation.
The disease control departments will also follow health conditions of poultry dealers in the market and staff working for Hong Kong's import inspection and quarantine station.
P.L. Ho, president of the Center of Infection under the University of Hong Kong, said the confirmation of the first case of H7N9 bird flu in Hong Kong is no surprise, since an increasing number of human cases has been found on the mainland.
The poultry in the market where the virus was found should be culled, said Ho, because Hong Kong is threatened by an increasing possibility of H7N9 bird flu epidemic.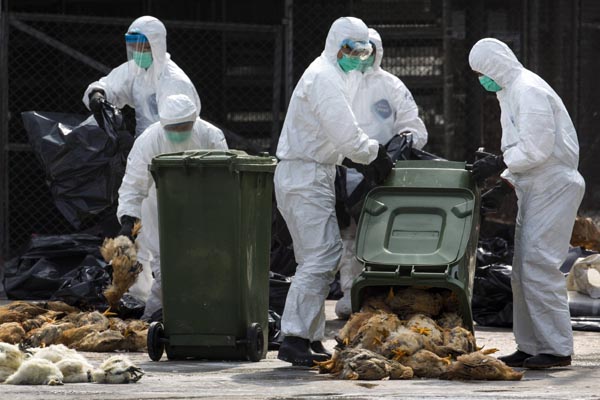 Health workers pack dead chickens into trash bins at a wholesale poultry market in Hong Kong Jan 28, 2014. Hong Kong began culling 20,000 chickens and suspended imports of fresh poultry from Chinese mainland for 21 days on Tuesday after the discovery of the H7N9 bird flu virus in a batch of live chicken from the southern province of Guangdong. [Photo/Agencies]