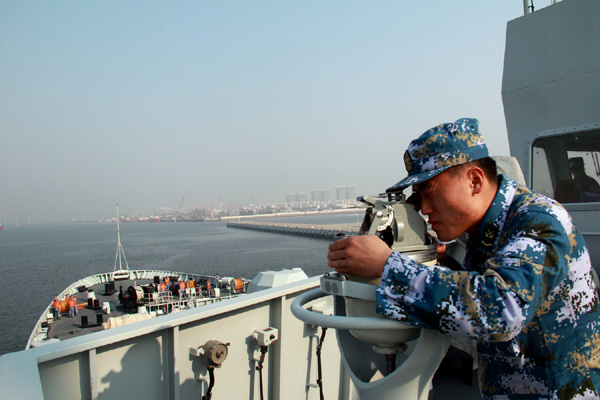 Warships from the People's Liberation Army Navy set sail from a port in Hainan province, Jan 20, 2014. [Gao Yi for China Daily]
A group of warships from the People's Liberation Army Navy set sail from a port in Hainan province on Monday and started a long-distance patrol training mission.
The group is composed of several surface warships from the South Sea Fleet: the amphibian landing craft Changbaishan and the missile destroyers Haikou and Wuhan, the PLA Navy said in a statement on Monday.
The training operation will involve a range of tasks, including supportive engagement — assisting other ships that are exchanging fire with hostile forces, said the statement.
They will also practice tactical maneuvers in the South China Sea, the Western Pacific Ocean and the Eastern Indian Ocean.
The group carries three helicopters, a hovercraft and a company of marines. The flagship, the Changbaishan, is the most advanced amphibian landing craft in the Chinese navy, boasting a heavy tonnage and cutting-edge weapons.
The Haikou and Wuhan missile destroyers are capable of defending against enemy aircraft and submarines as well as incoming missiles. They have previously taken part in escort missions in the pirate-plagued Gulf of Aden, as well as a joint drill with the Russian military, according to the PLA Navy statement.
Soon after leaving port, the two destroyers set off to join submarines on an exercise simulating the breaking of a hostile blockade.
"The patrol training mission aims to test the combat capabilities of the navy's ships, submarines and aircraft," said Lieutenant Admiral Jiang Weilie, commander of the South Sea Fleet.
"It is also intended to explore effective methods for long-distance training operations, which have become a regular thing for our navy," he said, adding that the mission is the navy's first long-distance voyage of 2014.
Gao Yi contributed to this story.