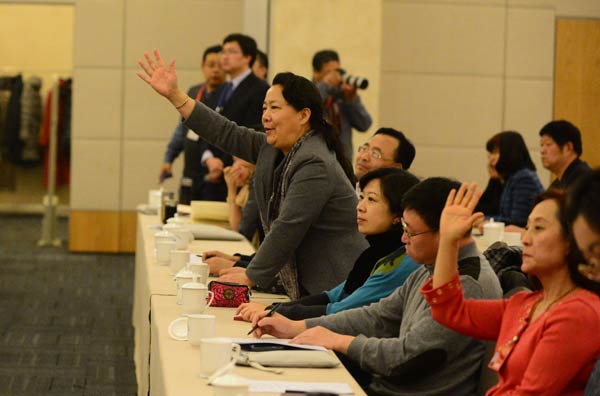 Sun Meiping, a political adviser, stands and raises her hand to ask a question at a meeting on social management on Saturday during a plenary session of the Beijing Municipal Committee of the Chinese People's Political Consultative Conference. Photo by Feng Yongbin / China Daily
Beijing's legislature plans to exercise its lawmaking role more through plenary session congresses of deputies rather than solely relying on its standing committee, an official said on Sunday.
Three drafts of new laws and regulations, including a high-profile air pollution prevention regulation, have been presented for review to the Beijing Municipal People's Congress, a move signaling the plenary session of the congress has returned to making laws after a 13-year hiatus.
Although each local-level people's congress is empowered to form and publish local laws, few do so in plenary sessions, Liu Weilin, a standing committee official in the capital's legislature, said on Sunday.
"Instead, it is up to us, the standing committee, to make regulations most of the time," he said.
However, because the standing committee consists only of 62 of the larger legislative body, it does not "represent the majority's ideas", he said.
So the capital's leadership will hand the three drafts to the plenary session of the congress, comprising 769 deputies, to solicit more suggestions, he said.
In recent decades, the plenary session has been held once a year and lasts only a few days.
The other two drafts target the rights and obligations of deputies, Liu said.
Li Xiaojuan, director of the legal office of the standing committee, said the municipal congress decided to present drafts of laws to the congress regularly to improve legislation and better manage the city's legal affairs, she said.
"In fact, 318 deputies have made suggestions for the drafting of the air pollution prevention regulation before the congress," she said.
The standing committee also solicited almost 1,000 opinions from people outside of the congress, including residents, coal plant operators, law professors and environmental experts, inviting them to take part in a number of such discussions before the congress, she said.
"The more discussions we have, the better we can enforce these regulations," she added.
Pu Xingzu, a Fudan University professor who specializes in the congress system, spoke highly of the move by Beijing's legislature, saying it will improve the quality of legislation.
"We have to acknowledge that it may take much more time to make regulations because many local people's congresses have hundreds of deputies. But that cannot be an excuse for plenary sessions not to exercise their legislative power," he said.
However, he added, it is vague what issues are identified as important enough to be handed to a congress for plenary discussion, requiring exploration and study.
"For regulations involving important or hot issues that are important to the public, such as traffic and the environment, it's a 'must' to discuss them in the people's congress," Pu said.
Supervision of whether a regulation is well implemented or not is also an important power of a congress, he said, "but which also stays on surface now and needs us paying attention".
caoyin@chinadaily.com.cn